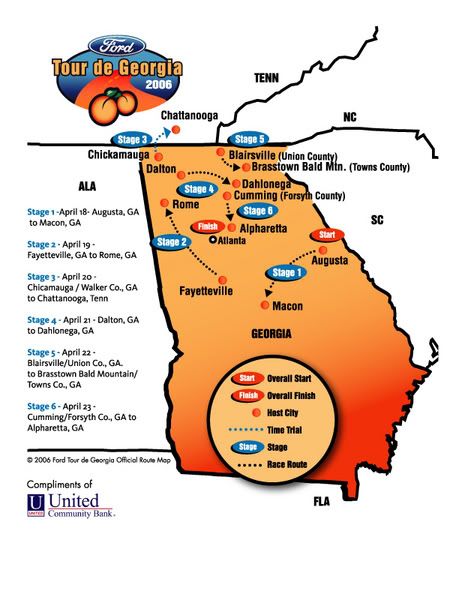 Stage by Stage (continued)
Stage Four, 118.9 miles/191.4 km
Friday, April 21: Dalton, GA to Dahlonega, GA
Start 10:30 AM--Finish 3:00-4:00 PM
Last year's stage to Dahlonega was full of excitement and perhaps even dread, as the weather turned nasty, the hailed dropped from the sky in chunks of ice big enough to drive off a tee, and the fog became so dense that the cars in the caravan had to light the way for the riders at some points. With a much better forecast on hand for the 2006 stage, we're hoping for excitement of another kind as the cyclist conquer the mountains and stir up the GC prior to the stage to Brasstown Bald. With four climbs, anything can happen on the way to Dahlonega (pronounced Duh-lawn-a-guh)
| | |
| --- | --- |
| | |
| | |
Photos of Stage Four, 2005, courtesy of Celia Cole
Winner of Stage 4, 2005, Brian Vanborg (CSC)
De'part
Located in the first valley west of the Blue Ridge Mountains, Dalton is naturally beautiful. Best recognized as the "Carpet Capital of the World," Dalton is a city rich in Civil War history surrounded by the Native American cultural heritage of northwest Georgia. Dalton's carpet and textile industry placed it on the map in the 1950's and is still the major industry in the area. With Historic Downtown Dalton only 3 miles off I-75, you don't have to go far to discover unique dining and shopping along our beautiful streetscapes. You'll see antebellum structures downtown, like our original Western and Atlantic train depot, .Exceptional growth and resources for industry have kept Dalton racing and becoming more and more a bustling metropolitan area.
Also of note is the fact that Dalton is the home town of Saul Raisin, currently riding in the green and white of Credit Agricole. Saul suffered a nasty crash and subsequently went into a coma last week, but is reported to be alert and improving at the time of this writing. The Daily Peloton urges everyone to wear green and white to Friday's stage to honor and encourage Saul in his full recovery. We hope to see his smiling self riding in the peloton again real soon.
Arrive'e
Dahlonega is just one hour north of Atlanta in the foothills of the Blue Ridge Mountains. Located on top of the largest gold deposits east of the Rocky Mountains, Dahlonega was the site of America's first gold rush in 1828. Although the gold rush history takes center stage in town, Dahlonega is fast becoming known as a "Mecca for the performing and visual arts". From bluegrass and old-time music to art galleries and theater there are exhibits and performances almost every weekend. The Historic Town Square is the center of attention in town, beckoning visitors to shop, play, eat and enjoy the best of Dahlonega. Dahlonega is also the center of Georgia's wine industry. As home to four distinct wineries Dahlonega's vineyard loop is a cyclist favorite. This cyclist haven is home to the infamous Six Gap Century and serves as a year-round training ground for pros and amateur cyclists across the Southeast.
To view a printable copy of the race log for Stage Four, visit Race log

Stage Five, 94.5 miles/152.1 km
Saturday, April 22: Blairsville, GA to Brasstown Bald, GA
Start 11:30 AM--Finish 3:14 to 3:54 PM
Brasstown Bald...chances are if you've been to a previous stage on this mountain, it was one of the most exciting days of racing you've ever experienced. Two years ago it was local rider Cesar Grajales from Jittery Joes that lit up the road on his way to victory ahead of the likes of Jens Voight and Lance Armstrong. Last year the weather turned severe with snow flurries and gusty winds challenging the riders all day. At the top of Brasstown Bald it was Tom Danielson riding into the leader's jersey with a mere four second lead over Levi Leipheimer. With two cat 1 and one cat 2 climb, the riders have to pay attention to movement in the peloton as anything can happen on the way to the top.
Photos of Stage 5, 2005, courtesy of Celia Cole
Winner Stage 5, 2005, Tom Danielson (Discovery)
De'part
Union County is located on the northeast border of Georgia and offers scenic beauty, friendly people, and an outdoor wonderland for all to enjoy. The seasons change from winter white to pastel spring to verdant summer to brilliant fall foliage. Blairsville, with its historic, Romanesque downtown district, has never recorded a temperature higher than the mid 80s. Union County includes the Blue Ridge Mountains crossing through more than half the county's acreage within the Chattahoochee National Forest. Cyclists from across the Southeast and beyond come to Union County year round to train, while taking in some of Georgia's most breathtaking views.
Arrive'e
Towns County, in the northeast corner of Georgia where summers are cool and winters are serenely beautiful, is as rich in natural beauty as when the Cherokees roamed the land. Visitors can enjoy authentic mountain music, arts and crafts, fine lodging, dining and resort facilities, and a multitude of recreational opportunities all designed to make a visit to Towns County memorable. Activities like horseback riding, golfing, hiking, biking, and even llama treks through the woods abound. A trip to Towns County is not complete without a visit to Brasstown Bald Mountain. It is the highest point in Georgia, with its 360-degree vista of four states and 4784-foot elevation.
To view a printable copy of the race log for Stage Five, visit Race log
EXTRAS:
Our previous visits to Brasstown Bald: 2005 Adventure and 2004 First-Timers
A look at other stage profiles for the 2006 race: Stages One and Two and Stage Three