After having chatted with Chechu a few times in the parking lot at Discovery Channel Pro Cycling Team training camp in January, I was getting anxious to have a little one-on-one time to talk with Chechu before he headed back to Europe, and that time finally came after the team presentation in Beverly Hills. Seeming to always have a smile and an easy way about him, I have to admit he's one of my very favorite cyclist in the European peloton. I've been fortunate to see Chechu race at both the Tour de Georgia in 2005 and the San Francisco Grand Prix in 2004, here in the United States. However, last summer seeing him climb in the Pyrenees in the 2005 Tour de France was really a highlight of the cycling season for me. On Stage 14 from Agde to Ax-3 Domaines, the final climb of the day was a mountaintop finish. This stage was our first day at the Tour and to say we were a little bit excited would be quite the understatement. As we walked up the climb to pick a good spot to wait for the riders, I kept noticing these beautiful blue flags being waved, and it didn't take me long to figure out that these were the flags from Asturias, and these were fans of Jose Luis "Chechu" Rubiera.
Hello Chechu! It's so good to see you again! I went to the Tour last year, to the climb at Ax-3 Domaines, and it was really exciting to see your friends and family that come with their flags from Asturias!
My group! Yes, all of my support!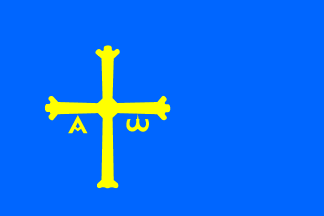 How did you feel about the way the team rode in the Tour last year?
Probably some days we didn't go as well as others, because we had to work so hard. So by the end we were tired, but for me personally I am quite happy with our performance at the Tour. I think we did well.
It seems like most years you all stay healthy. But this year Triki crashed. Were you particularly worried when Triki crashed out?
No, we had confidence in the team so we felt even without one important guy, even one like Triki in the mountains, we thought we would do well anyway. Perhaps if we lost one more guy we would worry, but with just one guy we had confidence in ourselves.
Tell me about riding with the team on the day George got his win. Were you talking with fellow teammates about what was happening? What were you hearing through the radio? It had to be so exciting for you guys!
(Big smile and affirmative nod) That was funny. As soon as that stage started, everyone was attacking and attacking. We just wanted to get George or someone in the breakaway to slow things down, so we could avoid having to chase things down. George was trying to get in the break for those reasons. He kept saying, "Let me go, let me go, so you guys don't have to pull," or something like that. It was supposed that the breakaway wouldn't go far. But nobody was chasing and George was in there so for us it was perfect. The other guys in the breakaway posed no threat on the GC, George was there, perfect. So for awhile we were asking Johan what we should do. He told us not to worry, that the break could take twenty minutes, no problem. So we let them go and we rode easy. During the race we kept asking Johan how it was going, how was the breakaway doing. He kept telling us guys were getting dropped, the group was getting smaller and smaller. I remember the final climb (Pla d'Adet), I was doing it with Paolo, and we were listening in the radio to see how it was going. George and Oscar Pereiro were near the end, but we still had probably 5K to go. We were following with information from the car in front. We heard then that George got the victory. We heard it in our radios, and that was really nice.
Now that Discovery doesn't have a designated leader for the Tour, do you think you'll be able to go for stage wins?
I am pretty sure that now we will have more chances to do that. Normally we had to take care of Lance, so that was more difficult. But from now on the tactics on the team are going to be different. We will leave responsibility to other teams, like CSC. I think we will have more opportunities to get into the breakaways and try by yourself to get victories. For the overall, I think we have enough guys, like Paolo and George and Popo. So it will be a nice game to play and try to get stage victories.
Is it exciting to think that after all these years of riding the race for Lance that it is going to change for you now?
Yeah, sure. For me I've had five years riding with Lance and almost every year I've had the same role for the team. We knew our job and it was to stay with Lance in the group. From now on it's going to get more interesting, in my opinion. It will be different because we will miss Lance, but really interesting now.
How did the camp feel this year without Lance? I noticed the parking lot wasn't so jam-packed with people this year!
(Roger Hammond is sitting with us and interjects at this point): To be honest it hasn't really changed with me. I barely knew Lance was at training camp last year. I ride with the Classics group and we leave fifteen minutes before the others, so I really only saw him at dinner in the evening. I don't think people realize how focused the team is on the two separate goals. I think later on when the results start coming in we're going to miss Lance more! (laughs)
From within the team is it more casual when Lance isn't there?
Roger: It's better when he's there. He takes everyone away from us and we can relax more!
Chechu: We had a tactic. When we were in the bus waiting to go out and sign in, we'd could do two things: we could leave before him or let him go first and then all the crowd follows him! The best way is to wait, so when he moves everyone goes with him and you have a clear road!
Did you get your race schedule yet?
I didn't talk with Johan yet, but I think I will start in Algarve, then Paris-Nice, Semana Catalana, Basque Country, and Tour of France. I think these are the ones I will do.
You were great at the Tour de Georgia last year, riding in the King of the Mountain jersey. But you won't be there to defend in 2006?
Well, I'm not sure of my schedule, but I don't think so. I like that race. It was the second time I've raced in the United States. The first time was in 2004 at San Francisco and I loved that race. It was really, really hard but plenty of people and nice atmosphere. Also at Georgia it was nice for me to be there.
I was particularly impressed with your ride in Georgia on the stage to Dahlonega. The day it hailed on you guys. The conditions were so horrible that day. How did you keep yourself motivated to keep riding that day?
It was not so cold, but it got so foggy the cars had to put their lights on so we could see in the dark! I felt really well that day. At first I had a few guys with me, but they didn't pull so I dropped everyone. I felt so good that day. I was close to getting the victory. That was nice.
How do you feel about your riding career right now, Chechu? Do you think you will ride awhile longer?
No, I am thinking about the end of my career. I have this year and maybe one more. I'm thirty-five, I think it's more than enough. I have been lucky, twelve years as a professional and not many guys can say that. Two years more and I will be done.
Are you married?
Yeah, yeah, I've been married for five year. No kids yet, but I want to. That's why I want to quit racing in two years!
You want to work as an electrical engineer at that time?

I would like to get a job in Asturias, with a small company. I've finished school but I don't have any work experience.
Yeah, but they'll hire you in Asturias; you're the King there!
(Laughs) I will try to get a good job.
It was time for the team to load on their bus and journey back to camp for more riding. Here's hoping Chechu does come to Georgia to race in a few months. If he does, I'm going to get myself one of those blue flags to wave. Did I mention he's one of my favorite riders?
Dodge Tour de Georgia photos provided by Celia Cole