During the Barclays Global Investors Grand Prix San Francisco, the Daily Peloton had a chance to catch up with Team CSC and talk a few minutes with top Tour contender Ivan Basso.
Daily Peloton: This year you raced in both the Giro and the Tour. Now that you're a heavy contender for the overall in the Tour, will you race both next year or concentrate on the Tour.
Ivan Basso: Maybe I'll do both.
DP: Is it hard to accomplish the double?
Basso: No. It's hard, but I didn't feel bad this year so I think I will try again next year.
Is that something that CSC wants you to do? Or do you personally have that goal?
Normally what I want to do is what Bjarne wants me to do. We decide together.
Were you happy this year with the improvements in your Time Trialing abilities?
I'm happy but I think it's not enough. I think it's not bad but I think it's possible that I go faster.
You'll be working on that next year?
Yeah, I think maybe I can improve 70% more. I definitely think I can go faster.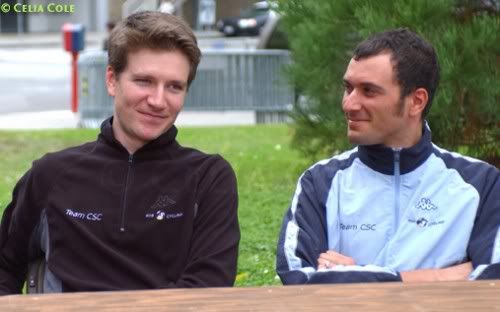 Dave (Zabriskie) didn't seem to like the CSC survival camp. How do you feel about the camp?
I like the survival camp, but not the swimming. I don't like to swim.
Is there anything you'll do differently in your preparation for the Tour next year now that you certainly are a top contender?
I don't want to change things. Because when you have results of 7th, 3rd and 2nd in three years, I don't think I need to change things. I need to work in the same direction. I think it's possible that I can win.
Do you feel being a Tour favorite brings new pressures upon you?
I always have pressure.
From the outside or the inside?
It's my job and there are many expectations on me, but it's part of my work and it's normal.
Are you a perfectionist?
(Hesitates and laughs as his teammates all nod their heads) Yes. You can ask my teammates or Bjarne!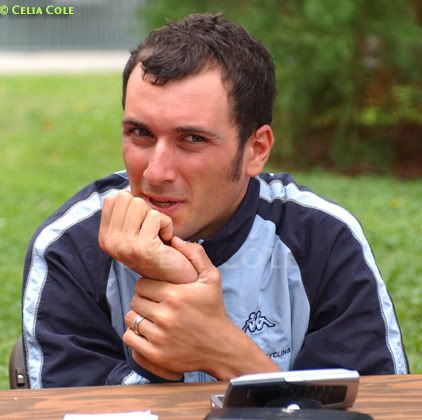 And who do you think will be your main rivals next year in the Tour?
I think there will be many, but I still think the most dangerous will be Ullrich again.
Do you think you can take him? Can you beat him?
I think it's possible. My team is strong for sure. In the Giro the team was strong. And in the Tour it's important that I'm good and the team will support me.
Is this your first time to race in San Francisco?
Yes.
Have you raced in the United States before?
No, I've never raced here before.
Have you seen the course for Sunday? Have you ridden it?
Yeaaah, I can go faster walking! It's too steep!
Thank you, Ivan. Good luck to you and the team on Sunday!