An epic day in the mountains has to include epic efforts to arrive at the start line, epic efforts to stay warm all day while waiting for the teams to arrive, epic efforts to occupy oneself for nine hours huddled in the car and....well, you get the idea. With notification that only 100 cars would be allowed to the parking area at the top of Brasstown Bald, Celia and I were determined to be one of those one hundred, so we teamed up with two other DP photographers, Scott Schraffick and Bob Keller, and made our way to the parking area by 8:45 A.M. We parked our car right in front of the Jumbotron, figuring if all else failed we could pretend we were at a drive-in movie, although at that early hour the fog was swirling around so much you couldn't even see the screen 60 feet in front of us. It was blustery and cold and we all were wondering if we had possibly lost our senses, but we hunkered down in the car to pass the time. It was cold, and after last year's super-warm weather, many journalist were caught without proper warm clothing. I'm pretty sure Wal-Mart did a big business in the fleece jacket department. The tourist shop at the parking area did have good souvenirs, which was handy for some of us who had been too busy to purchase gifts for family. Plus the gift shop gal told us the fog was supposed to disappear after noon, which gave us a little hope for clearer skies. I might mention that we were feeling cold and somewhat miserable, but in the back of my mind I kept thinking, "Those poor cyclist!"
The hours passed. Temperatures were in the thirties much of the time, so we'd have to turn on the heater to warm up for a while. Every hour or so we'd have to get out of the car and walk around to stretch our legs, see what people were up to, get a hot chocolate, look at our watches to see that it was only six more hours until the cyclists would arrive. Shuttle buses were bringing people up the mountain, others were riding their bikes, and still more were walking, carrying their chairs and blankets and food. The mountainside began to fill in. More hours passed. We stationed our chairs just up from the parking area on the last section of the climb, not all the way to the barriers at the top, but just a bit below there. Let me point out, however, that there is no flattening out on this climb, and while some sections might be less steep than others, it's all steep. The wind kept blowing, and the fans looked like they were bundled up for a day on the ski slopes. One of the course marshals who was directing traffic would yell "Welcome to Minnesota!" as the cars pulled into the lot, but personally I was thinking of Wisconsin.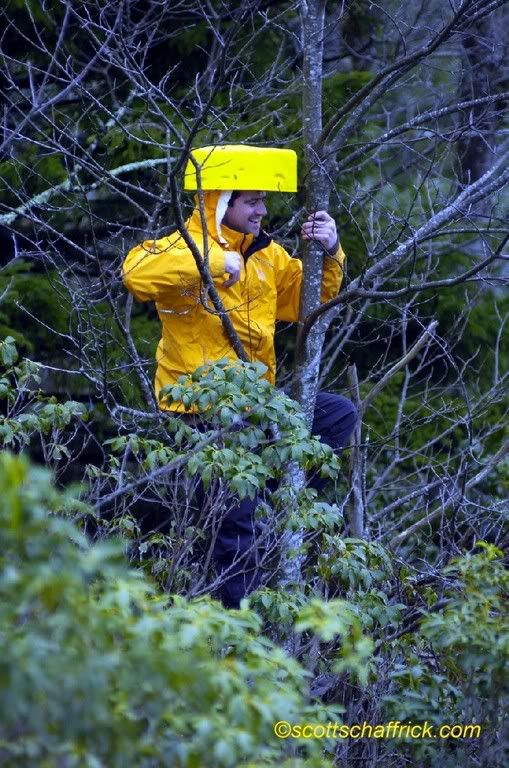 Eventually, maybe after noon, the race coverage began on the big screen, and part of the time the race radio was broadcast as well. This helped pass the time more quickly, as we were able to follow along in our race guides to see just where they cyclists were and what time schedule they were on. There was virtually no cell service in this area, so we couldn't call anyone to get an update so much of the time we were figuring things out on our own, as the race radio didn't always come through with the picture feed. Occasionally the sun would come out, but the wind rarely eased up and the temperatures never rose. Many of the vendors at the Expo were minimally operating their booths, as the wind was whipping the awnings around, and yes, tipping over the port-a-potties.
We finally headed up the hill via foot around 3:30 P.M. We'd somehow managed to kill over six hours in a car. The crowds were huge, but we had our spot staked out near our new friends Bryan Henderson, Jake Hester and Stacy Powell. Turns out I had been near Bryan further down the mountain at last year's race, but Jake and Stacy were new acquaintances for the 2005 race. Excitement was building as more and more people made their way up higher on the mountain. We had a visit from Elvis, who claims he rode up the climb in this outfit. He'd position himself in the middle of the road, and sing out "Ain't nothing but a cyclist." Everyone would laugh. Laughing keeps you warm; we all figured that out. For some reason Jake decided he needed to run around with no shirt on, so we called him Naked Man. "Scott, take a picture of Naked Man for my article."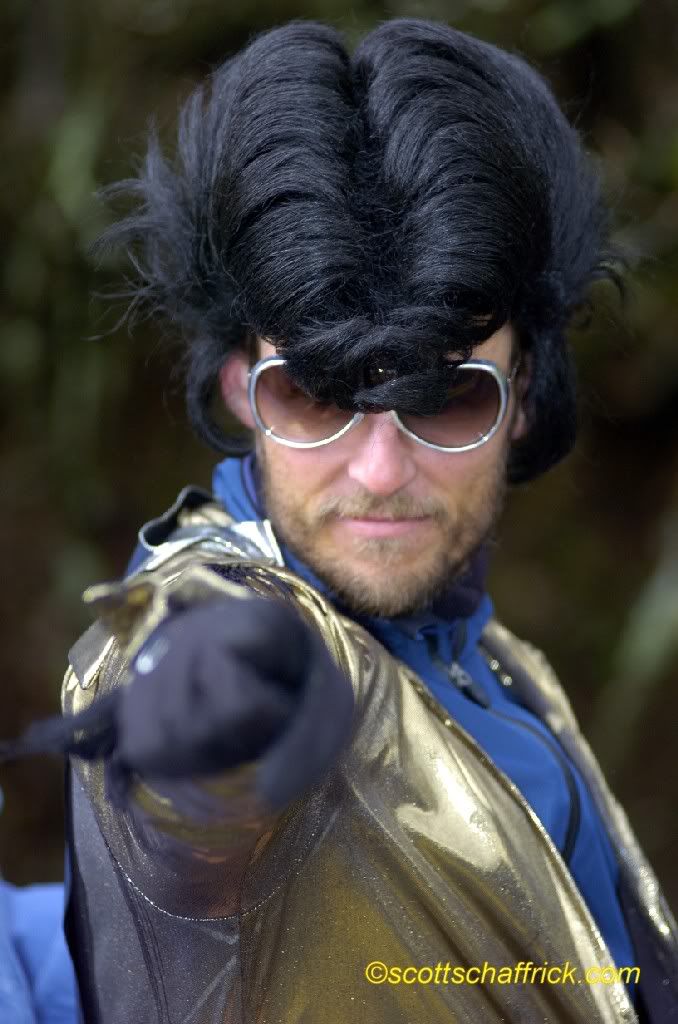 We heard from others below our spot that the cyclist were coming, and we could hear the helicopter getting closer. Snow flurries began to fall, and I kid you not I immediately thought of Andy Hampsten riding in the snow in the Giro! Finally the first two cyclist came through. They were Levi Leipheimer and Tom Danielson and at this point Levi was in the lead. The road was very narrow where we stood and we were incredibly close to the athletes. I kept looking right into their faces as they churned past us, not using my camera at all, just wanting to be up close to the riders with no camera in between so I could experience their suffering, their fortitude, their determination. A few seconds later Lance and Floyd came pedaling through and Floyd managed an attack right by us. I had just interviewed him a few days before, and I was yelling at him, "Floyd! You can do this!" I had seen his family walk up this section earlier in the day, and I wondered if they had ever seen him race in a mountain stage of the Tour. I wondered what they were thinking as he rode by them a little further up, with the race slipping away at the finish line. I thought so many things about him in the few seconds I was next to him; it felt like time was frozen, and I really felt honored that I "knew" him.
A few more select riders came through: Bobby Julich, Trent Lowe, and soon I saw the first Health Net-Maxxis rider coming around the corner. I knew it was going to be Justin England. He had been having such a good Tour de Georgia, and a good spring in the California races. I'd just had a good feeling for his climbing legs that day. He was only three minutes down from the leaders. I screamed out his name and so did all the others around me: "Go Justin! You're almost there!" He looked right at me and almost smiled...or maybe that was a grimace, I'm not sure which. Later he said he saw us and he remembered where we'd been on the climb. He rode on higher, and he placed 13th in the stage, the best finish for Health Net-Maxxis.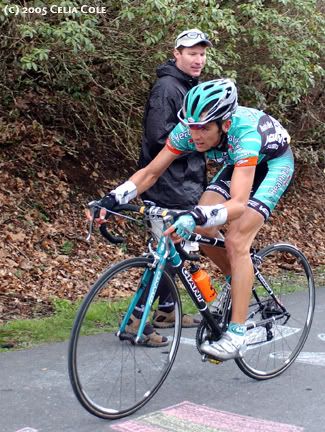 Five minutes later Scott Moninger came through, and close behind him Chris Wherry. I had not seen Scott around much during this race, but I knew he had raced hard all over California in March and I had seen the incredible work he'd put in for Wherry in Redlands. He was quietly going about his business during this tour, but he looked comfortable and within himself. Wherry looked a little beat, but he was up out of the saddle and cranking hard on those pedals. We'd scream out "Go Scott!" "Go Chris!" and everyone else would chime in and ring their cowbells and wave their clappers. It was more than thirteen minutes later when a group of four Health Net-Maxxis riders came through, encouraging each other and plodding along, barely making the time cut but living to ride another day, another stage. Later Greg Henderson told me during the race his legs didn't hurt, but he just had no power in them. He said his "mates" kept telling him, "Only 15k more, Hendy." "Only 10k more." "Only 5k more." Have you seen the last 5k? he marveled at the press conference.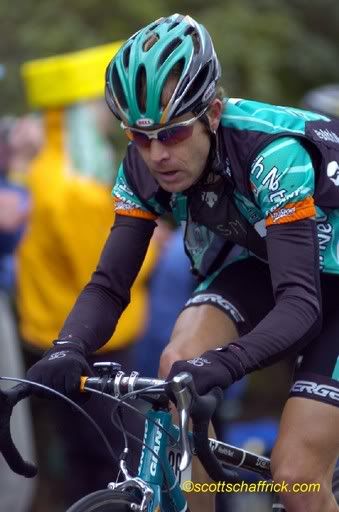 All too soon the riders were through and it had all unfolded in less than thirty minutes. The cyclists had been five hours plus on the bike, and we had been on top of the climb for over nine hours! Brasstown Bald was in the books. Once again we'd been to the mountain and it was good!