Time Trial Ride with Chris Wherry, Health Net-Maxxis
They call the Time Trial stage the Race of Truth. Just the man and his machine riding against the clock. Throw in rain showers and a major climbing section on course and you get endless possibilities for an exciting day. The Dodge Tour de Georgia Time Trial stage began at Darlington School in Rome, Georgia. Darlington is a private school with grades pre-K though 12, and is celebrating their 100th anniversary this year. The students all wore yellow t-shirts and the organizing committee pulled out all the stops to create a festival-like atmosphere for the start of the TT. However, soon after the first dozen riders went off, rain showers moved in, making the start ramp incredibly slippery, so much so that the water had to be swept off between riders.
I chatted with Andy Rihs, CEO of Phonak, prior to the stage and he shared his passion for cycling with me. He said as a younger man he tried other sports, but it wasn't until he got on a bike that he really felt comfortable and at home. When he speaks about his team and his sport, his entire face lights up and takes on the look of a youngster thrilling to riding his bike. Little did Andy know at this point what a grand day he was about to have.
As Health Net-Maxxis riders warmed up on their trainers, the cheer squad from the school came by to shout out a send-off cheer. Something tells me that doesn't happen too often. My favorite part was at the end of the cheer when they wished the "bikers" good luck. I immediately looked around for some leathers and Harleys, but found none in sight. As the Health Net cyclists warmed up prior to the stage start, mechanic Jim kept track of the start times on his arm so not to miss anyone. For the most part only one team car was following a rider, and I had the privilege of riding behind Chris Wherry, who was the highest placed rider on GC.
The road was slippery and very wet by the time Wherry was up. Warning him to take it easy when crossing the paint, DS Corbett drove the car over the 30K course. Several others rode in the car, too, but no mechanic on this ride, as Corbett explained that if you flatted in this short tt, it's just easier to switch to the road bike we were carrying on top. Chris looked good as he started on his ride, keeping his rhythm and not swaying the body too much.
There were lots of spectators on course, especially when we arrived at the mountain section, which was 10k into the ride. Corbett mentioned that a course like this is hard to plan for. Since the riders use their tt bikes, they have to climb on those instead of their road bikes. Some of this course supposedly had 20% grade, with some flying descents, which cause a concern since the tt bikes aren't known for their good brakes. Corbett talked a little bit about how the teams don't have many Time Trials to practice in, so for many this is the first tt of the year and it's often difficult to find one's rhythm on the first ride. Jeff made the comment that there isn't much advise he gives for the tt, as the senior riders for Health Net-Maxxis know their stuff and know what to do. He knows they are all self-motivated guys, so his primary job becomes one of course advisories and shouts of encouragement. Jeff liked it that Wherry had the rider in front of him in sight much of the way, as it gave Chris a target to aim for: "Come on Wherry! Let's go get that guy! Use him for pace! He's slowing down a little, baby!"
In the steeper sections Corbett would yell loudly out the window for Wherry to "Go, Chris, Go!" On the winding sections he'd yell, "First a left, then a right, then a left." Corbett doesn't like to mike up the riders for the tt's. He likes to leave them alone to focus on their rides, without interference from him. These sections were lined with cheering fans, really a large number of people on the hills. Cowbells and signs provided a lot of encouragement for Chris as he continued on his solo ride. People had rider lists and they were screaming Chris's name. One guy even screamed he'd seen him win in Redlands a few weeks ago and wanted to see a repeat of that effort. "Let's go! Let's go! Get on top of that gear!" shouted Corbett from the car. At one point it looked like Chris's chain slipped a little, and Corbett said it's hard to plan for this type of Time Trial, which includes both mountains and flats, as it's hard to plan the gearing for both conditions.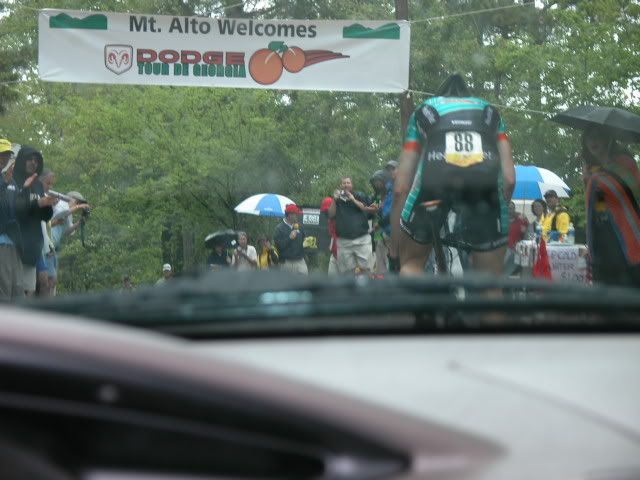 Finally Chris saw a hand-made sign that read "It's all downhill from here!" but it was slippery and treacherous on the descent. His back tire slipped out a few times, but Wherry knows what he's doing and took no uncalled-for chances, with two three stages to go and no GC chances in sight at the moment. Wherry's time was 1:49 down from stage winner Floyd Landis. Later Chris told me he knew the course, but maybe should've ridden it again before the stage. He'd forgotten just how long the climb was. He said he felt strong, he felt good, but was a little frustrated that he hadn't spent enough time on the tt bike. He was uncomfortable on it, and probably should have ridden his road bike. Going up the climb he couldn't pedal in his regular style and kept smacking his knees on the bars. But Team Health Net-Maxxis has had a stellar early season in California and dominated the NRC circuit. The riders trained for those races and the sponsors are probably thrilled with their results. I was thrilled to go along for the ride, and see this athlete's fortitude and determination carry him to the line.
Wherry came up with the best time of the day for the Health Net-Maxxis squad and while he wasn't particularly thrilled with his performance, he hung in there and got a decent result. However, the ride of the day belonged to Floyd Landis of Phonak, who was the only rider to break 40 minutes, with a ride of 39:58. Looking every bit the cat who ate the canary, Landis stepped into that yellow jersey on the podium and now leads the 2005 Dodge Tour de Georgia. Rome, Floyd County, Georgia has a new favorite son.
By the way, someone's very proud mom told me today was Michael Lange's 22nd birthday! Lange is a rider on Jonathan Vaughter's TIAA-CREF squad and we wish this up-and-coming cyclist a very happy birthday. Oh, to be twenty-two again!