Just a few days after the Tour of Valencia, riders in Spain are back in the saddle for a new stage-race challenge: the 25th Vuelta a Murcia, running in the Comunidad Murciana, in the south-east of country, on March 02-06, e.g. between Wednesday and Sunday.
Race Overview
Petacchi surprised everyone with his overall victory in last-week's event, but it should be a whole different story this time around. Not just because the Italian, undisputed and undefeated superstar of the past month when it comes to cycling races, will not be in attendance, but also as the parcours is more demanding, with the first real test against the clock of the new season and nine climbs (seven Cat. 3 and two Cat. 1 ascents) on the menu, the grueling mountain stage with the traditional mountain-top finish at Alto de Collado Bermejo included. If compared to the Valencian contest, the Vuelta a Murcia offers less room for the sprinters, and more for the usual GC contenders, and even if the adverse weather conditions recently affecting most of Europe, southern Spain included, should continue annoying the peloton (with recent news saying it rained all day in Murcia Monday, and the Collado Bermejo ascent, covered with snow, recently closed to traffic - photo here-, there's more than a chance that this is actually going to happen, though according to local Weather Channel addicts things should take a turn for the better in the next days …) and maybe even altering the a race course, they are less likely to have an impact on the overall the way they did at Valencia and surroundings.
A further proof of the Tour of Murcia's toughness can be found in the race palmares, featuring no less than five Grand Tour winners (something few small stage races can boast): Pedro "Perico" Delgado, Miguel Indurain, Melchor Mauri, Marco Pantani and TerminAitor González, as well as other top-quality riders such as Colombian Victor Hugo Peña. Or the latest champion of the event, a certain Alejandro Valverde twelve months ago, all aforementioned differences between Valencia and Murcia were nullified by the young Spanish talent, who captured both the Valencian Tour and the "home race" of his home region, to the delight of local fans. Valverde will be one of the excellent absentees of the 2005 edition though: even if the Vuelta remains one of his favourite races obviously (and he'll be writing a daily column about the race on a local newspaper), the Golden Boy of Spanish cycling is busy racing elsewhere in early March, as he's going to make his Pro Tour debut at Paris-Nice. Arguably not his own choice, but a decision made by his Illes Balears managers, which wasn't welcomed by the Tour of Murcia organizers "I spoke personally to (Illes Balears' "Directeur Sportif") Eusbeio Unzué, but couldn't make him reverse his decision" race boss Carmen Guzmán admitted.
Valverde and another murciano, Luis León Sánchez (the Liberty Seguros revelation and Tour Down Under winner won't be in the bunch even though the race makes it to his hometown Mula) are just two members of the "excellent absentees" club, that features also the aforementioned Petacchi - back to Italy after his triumphal Spanish campaign to continue his Milan-Sanremo build-up at Tirreno-Adriatico -, Oscar Freire, who opted for testing the Madrid world parcours these days, as well as Lance Armstrong and Jan Ullrich, both racing the 2004 event instead. The road to Paris was expected to kick-off here for the German, but a bad cold he got while training in Tuscany took him out of the saddle for a week so that the man, whose condition T-Mobile bosses considered not good enough for him to race such a difficult Tour as Murcia's, had to postpone his first outing of the season by close to a month, as it should take place at France's Circuit de la Sarthe. And Phonak Hearing Systems too: the Swiss team were meant to grace the roads of the Murcian Community, but after they were let into the Pro Tour Team circus, they changed their attitude and made the decision to skip the event and prepare for other targets. Not to the delight of race organizers, who easily found someone to replace them anyway: Belgium's Landbouwkrediet-Colnago will be riding in Phonak's place.
But as they say in Italy gli assenti hanno sempre torto (absentees are always wrong), so we'd better focus on the field of participants, which is a world-class one. Sixteen teams of eight riders each (though actually two of them are gonna field seven riders only), totaling a peloton of 252 legs, are set to take the start at Plaza Juan XXIII in downtown Murcia come Wednesday.
Teams and Riders
The list of participating teams is as follows:
Acqua & Sapone-Adria Mobil (Ita - Continental Professional Team)
Team Barloworld (GBR - Continental Professional Team)
Bouygues Telecom (Fra - Pro Tour Team)
Comunitat Valenciana (Spa - Continental Professional Team)
Chocolade Jacques-T Interim (Bel - Continental Professional Team)
Team Gerolsteiner (Ger - Pro Tour Team)
Illes Balears (Spa - Pro Tour Team)
Kaiku (Spa - Continental Professional Team)
Lampre-Caffita (Ita - Pro Tour Team)
Landbouwkrediet-Colnago (Bel - Continental Professional Team)
Liberty Seguros (Spa - Pro Tour Team)
Mr.Bookmaker.com-Sports Tech (Bei - Continental Professional Team)
Rabobank (Hol - Pro Tour Team)
Relax-Fuenlabrada (Spa - Continental Professional Team)
Saunier Duval-Prodir (Spa - Pro Tour Team)
T-Mobile Team (Ger - Pro Tour Team)
Another thing the Valencian and Murcian Tours have in common is the lack of a red hot favourite to take the title. With the reigning champion not attending, many picked 2004 runner-up José Iván Gutiérrez as the man poised to win the race, especially after his recent showdown at Clásica de Almería. But regardless of the excellent condition both the man and some of the teammates who are going to assist him in the race (notably Almería runner-up Sergi Escobar), as well as his palmares - he's Spain's reigning National Road Champion, and winner of the World Title against the clock as an Espoir in 1999, after all - Iván Gutiérrez Palacios is not such a big name to overshadow any other GC contenders.
Even more with a certain Damiano Cunego around. The number one-ranked rider in the UCI ranks made his debut in what Lampre-Caffita veteran team manager Giuseppe "Martino" Martinelli called Damiano's most significant season at Almería three days ago. Albeit he's obviously far from top form, the man showed some decent legs as the road tilted upwards; and the Vuelta a Murcia, with the grueling stage into Collado Bermejo, represents a good opportunity for him to gauge his condition.

March 2004: Damiano Cunego and our "special envoy" to the 24th Vuelta a Murcia
Kelly Fowler. Photo courtesy Kelly fowler. Click for larger image.
As our newsroundup-man Podofodonny recently reported, Cunego has been training a lot more in the last few weeks in the build up to the start of his season. "I feel I have done a good job in the build up to the season, the training camp in Terracina with the rest of the team was good for me, and I must say I am feeling even better at this time of the year than I did last year, Murcia for me means a lot, it will show me my true race condition for this time of the season." The same Martinelli has confirmed that Damiano has done his preparation in the correct way, "He is also riding better than last year at this time of the year, I am sure he will do a great ride in Murcia, hopefully he can get a stage victory". Talking about the Time Trial, Cunego says that for him it will be a good time to see his condition and also to see how much improvement needs to be done in his Time Trialling. So that the Italian, who is not new to racing in the Murcia region, though unlike in the past he will do as a star rider this time, could (partially) make up for the absence of several other big guns, even if it's hard to pick him as top favourite for the GC win.
Perhaps it would be better to put money on other riders with more motivations to do well at Murcia, like Illes Balears' second team leader Rubén Plaza, a talented rider who placed sixth in the 2004 ITT, and currently leads in the UCI European Continental Tour standings, after he showed a more than excellent condition as he took both a stage and the overall win at Portugal's GP Internacional-Costa Azul a couple weeks ago, and skipped the Tour of Valencia in order to focus on this race.
Or like the two local riders in attendance: José Cayetano Juliá and José Martínez. But if the former is not in top condition, and with guys like Gutiérrez and Colom in the Illes Balears roster it would be quite difficult for him to assume team leadership, the latter might actually stand a chance. Comunitat Valenciana's sport director Vicente Belda is confident that Martínez could help the team continue their winning tradition here after Valverde's 2004 triumph. And the rider himself, stage winner at the past tour of Spain and Volta ao Portugal, sounds well-determined not to disappoint his boss, regardless of the knee injuries he suffered a few days ago as he hit the tarmac while training. And if Martínez and Plaza should fail, with recent accomplishments such the Vuelta a Andalucia overall victory Paco Cabello might well enter his name in the list of main suspects to make the headlines at Murcia too. And so could Antonio Colom, stage winner at Mallorca Challenge and podium finisher (at the end of a close battle with Italian Franco Pellizotti) at Valencia. Past GC winners Javier Pascual Rodríguez - another member of Comunitat Valenciana's strong contingent - and David Cañada of Saunier Duval might also have a go at climbing the podium again.
The Murcian climbs could be a good test for the legs of other talents such as Eladio Jiménez, crowned King of the Mountains in past editions of Tour of Spain, or Vladimir Karpets, while Andrea Tafi might gift us with one of his legendary breakaways, perhaps with a not so little help from the Kaiku attacking machines (the small Spanish squad made the headlines countless times in their first month against the big guns, Andoni Aranaga's Tour of Valencia stage victory included, and even without Aranaga in the Murcia roster, with riders like José Antonio López Gil, Ricardo Serrano and Ezequiel Mosquera they are likely to continue their fighting ways into March …) and their Relax-Fuenlabrada colleagues, especially Volta Valenciana serial escapee Ivan Mayoz. Riders of Team Barloworld (with David Plaza as appointed leader?) Chocolade Jacques (fielding Wesley van der Linden, who knows well what winning in Spain is about … in cyclocross though) and Mr.Bookmaker.com-Sports Tech (with Australian Ben Day) might well have something to say too, espcially when it comes to start the fireworks.
On to Ullrichless (and Zabelless) T-Mobile, whose roster is a mix of veterans and youngsters: the 35-year-old Italian Giuseppe "Turbo" Guerini, who opened his 2005 season on Sunday at the Clásica Almería, will be leading a squad also containing the magenta neo-pros Bas Giling (Netherlands), Bernhard Kohl (Austria) and Marcus Burghardt. The young guns have been making a smooth transition into the pro ranks, with Giling even finishing an impressive 15th in Sunday's 173 km long race around the Andalusian city of Almeria. "The young riders have been giving a good account of themselves. I am very satisfied with the way they have held their own in the peloton," said team manager Olaf Ludwig. Giling has been in particularly good form in the build-up to Murcia: "Bas is rising very strongly, maybe he can impose himself on one or two of the stages", says sports director Mario Kummer. Eric Baumann has been nominated by the sporting management for sprinting duties in the five-day race (UCI-Cat. 2.1). Rounding off the magenta roster is the Kazakh Sergey Yakovlev. The participation of Paco Lara still hangs in the balance. Last week the Spaniard picked up an injury when he came off his bike in the first stage of the Tour of Valencia, forcing him to rest up for a few days. Bram Schmitz, who has been suffering from a cold in recent days, is a late withdrawal from the T-Mobile roster.
Most of the riders who rocked the sprints on Spanish soil throughout February, from undefeated Petacchi to Freire, from Zabel to Van Heeswijk to "serial runner-up" Isaac Gálvez will not be around (same reasons as above: Pro Tour start, Tirreno-Adriatico, something better to do etc.), but still we are going to have a good amount of fast legs on Murcian roads: you can be sure that guys like Australian Allan Davis, German waterboy Danilo Hondo and the aforementioned T-Mobileman Eric Baumann, Italian Crescenzo D'Amore and Spain's Angel Edo, just to name a few, will be there to delight us with their show when the going gets fast.
The Stages
The 25th Tour of Murcia stage list is as follows:
Stage 1 (Wednesday 02) Murcia-Molina de Segura (162 km)
Stage 2 (Thursday 03): Alhama de Murcia-Alhama de Murcia ITT (22 km)
Stage 3 (Friday 04): Mula-Fortuna (155.8 km)
Stage 4 (Saturday 05): Águilas-Collado Bermejo (152.3 km)
Stage 5 (Saturday 05): Murcia-Murcia (150.6 km)
And here's a more detailed view of the route:
Stage 1: Murcia to Molina de Segura (162 km) : The 2005 opener is easier than its 2004 counterpart. And this should be one for the sprinters, with a partially downhill and mostly flat second half. BUT… yes, there's a "but", and it's about the early part of the stage, with the Cat.3 Alto de Cuevas coming after about 46 km. to warm the riders' legs, and some more uphill riding straight before the halfway point. Will they provide a good launch pad for any wannabee bunch of escapees? And would this possible breakaway group succeed in making it to the line? The Fassa Bortolo chase machine and other top sprinter teams will not be around this time, after all. If the answer to the first question might well be a "yes", we tend to think that any possible breakaway groups should be reeled in well before the finish, and it all would come down to a massive sprint. But …

Courtesy Vuelta a Murcia
Stage 2: Alhama de Murcia to Alhama de Murcia - ITT (22 km) The first big test against the clock so far this season, as we said before. Since the past Vuelta, stage two (and not the closing leg as it used to be) is all about "race of truth" specialists, and comes back under the disguise of a 22-km. loop starting at the hamlet of Alhama just to make it to nearby Totana and then get back to town. The course is almost completely flat. That's really one for the specialists, and it would be great to have many of them competing. Unfortunately, due to several different reasons - Pro Tour debut in France, Tuscany-made cold, main targets coming later in the season etc. - only few of them will be at the start line, fewer than in past editions at least. Our money is on 2004 ITT winner Iván Gutiérrez and/or the Liberty Seguros TT machines, Isidro Nozal in particular, but this stage could be also a good test for Joseba Beloki's redemption ambitions. Don't write off Ruben Plaza anyway. And don't rule out a victory by specialists from a foreign (arguably not Italian though) team/rider either; the Gerolsteiner guys in particular: Michael Rich took second twelve months ago, and is back to Murcia with some solid chances to win, and even if Torsten Schmid (fourth place getter that day) will not be around, talented TTists like Uwe Peschel and latest addition to the team Levi Leipheimer (the only US rider competing at Murcia) might well stamp their authority on the race today.

Courtesy Vuelta a Murcia
Stage 3: Mula-Fortuna (155.8 km) "A day for the small Spanish teams to launch an early break and the big guns to hunt them down for their sprinters" was what Podfodonny wrote in his 2004 Vuelta preview about stage three of that event. And with today's ride bearing striking resemblances to that stage, both in terms of distance covered (155.8 km. as opposed to 156.4) and ascents to be climbed (the Cat. 3 Alto de La Fuente Blanca and Alto Peña Zafra de Arriba), those words can suit today's leg too. There was no winning breakaway by small Spanish teams twelve months ago, when Max van Heeswijk sprinted to victory from Erik Zabel, but neither those two sprinters nor their breakaway-chasing teams will be pedaling on Murcian roads this time, so who knows …

Courtesy Vuelta a Murcia
Águilas-Collado Bermejo (152.3 km) The "queen stage" of the event, with the mountain-top finish at Alto de Collado Bermejo (Cat. 1, m 1150 asl) which comes, providing there's no snow on its slopes, at the end of a tough journey of 152.3 km. containing four more climbs: the Cat. 3 Alto Lomo de Bas after 17.4 km., Alto de La Santa (km. 75.1) and Alto del Pliego 115.5 km. into the stage followed by the Cat. 1 Alto de Espuna at 9 km. from the line. A thing for the pure mountain goats like Marco Pantani, first across the line in the Collado Bermejo hilly stage back in the days of March 1999, when he became overall winner (something very unusual for him in short-stage events) of the race. As a tribute to the Pirate, race organizers made the decision to dedicate him the Collado each time the race hit that climb, now called Collado Bermejo/Cima Marco Pantani. In 2004 Danilo Di Luca paid the best possible homage to the memory of his fellow countryman as he raised his arms while crossing the line first, and some see Damiano Cunego, who's taking Pantani's place as the favourite rider of the Italians, as the right man to continue the Italian tradition of winning here to honor Marco. The 2003 stage, when Collado Bermejo was just Collado Bermejo, was won by US Postal's Colombian Victor Hugo Peña in a two-man sprint over Jan Hruska; but neither the American team now called Discovery Channel nor The Notorius VHP's new squad Phonak will be at the start line.

Courtesy Vuelta a Murcia
Below is the Collado Bermejo profile in details, courtesy of
Altimetrias.com
.
Click here
to visit this great website, a must for anyone wishing to know more on Spanish climbs and their
altimetrias
.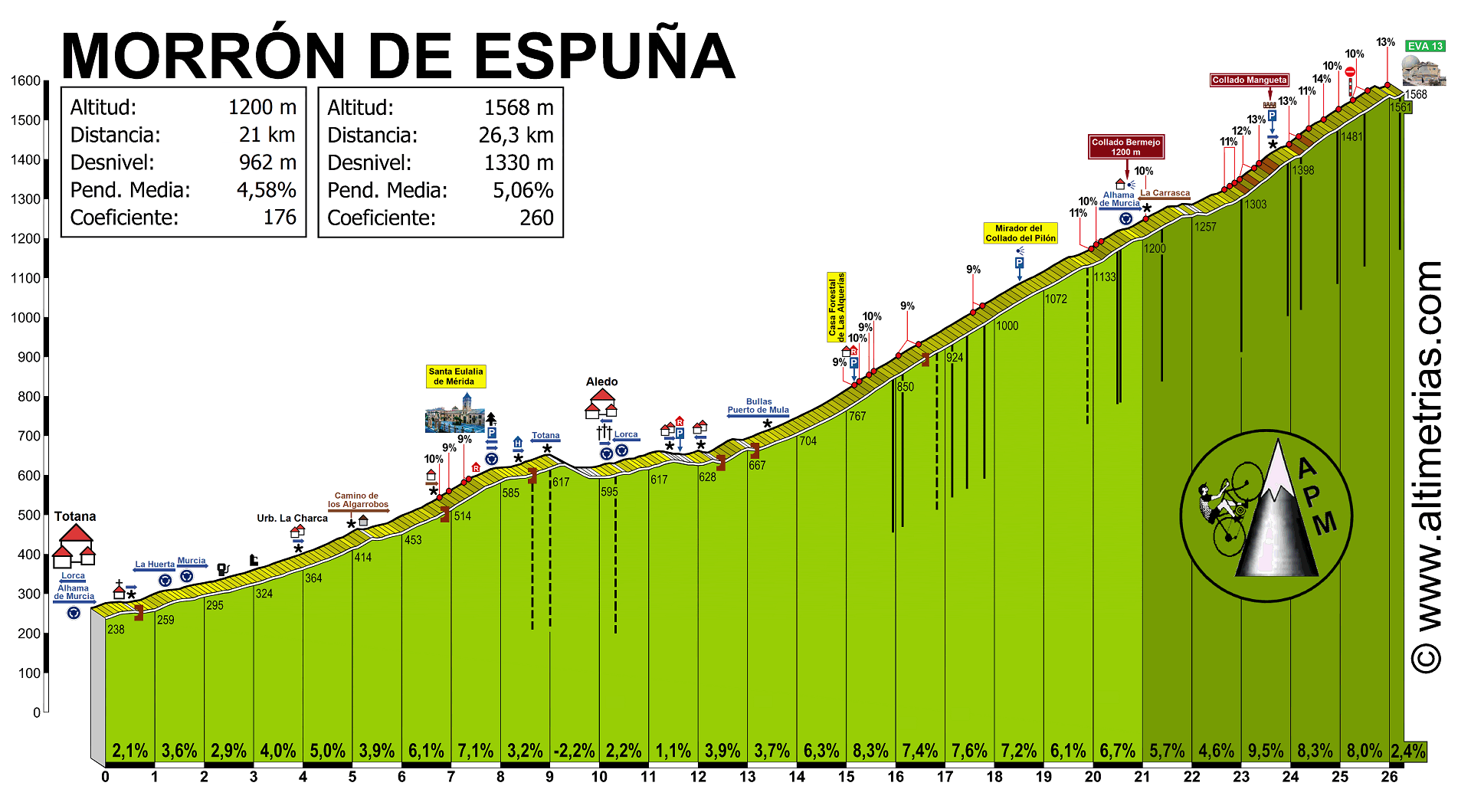 Click for larger image.
Stage 5: Murcia-Murcia (150.6 km)
The 2005 parcours resembles the past one(s) also in the last stage, which covers about 150 km. and finishes at Murcia after climbing the Cat.3 Alto de Cabeza de Plata and an unclassified climb in its late part. But the course makes sprinter a bit happier this time, as both ascents come earlier than in 2004: Alto Cabeza de Plata less than 40km. into the ride (rather than around the halfway point) and the other climb peaks at 25.6 km. from the finish line, rather than less than 20. The sprinters teams might have a hard time holding the race together, but if the day came down to sprinters twelve months ago, with Pagliarini denying Zabel stage victory and "Perdi" in third place, it might well happen again today.

Courtesy Vuelta a Murcia
25th Vuelta a Murcia: Startlist with Back Numbers
Comunitat Valenciana
1. Martinez, José Luis (Spa)
2. Cabello, Francisco (Spa)
3. Pascual Llorente, Javier (Spa)
4. Plaza, Rubén (Spa)
5. Garcia Quesada, Carlos (Spa)
6. Garcia Quesada, Adolfo (Spa)
7. Pascual Rodríguez, Javier (Spa)
8. Jiménez, Eladio (Spa)
Manager
: Vicente Belda
T-Mobile Team
11. Guerini, Giuseppe (Ita)
12. Baumann, Eric (Ger)
13. Burghardt, Marcus (Ger)
14. Giling, Bastiaan ((Hol)
15. Kohl, Bernhard (Aut)
16. Lara, Francisco José (Spa)
17. Yakovlev, Serguei (Kaz)
Manager
: Giovanni Fidanza
Lampre-Caffita
21. Cunego, Damiano (Ita)
22. Fuentes, Juan (Spa) ???
23. Marzano, Marco (Ita)
24. Sabaliauskas, Marius (Lit)
25. Spezialetti, Alessandro (Ita)
26. Szmyd, Sylvester (Pol)
27. Stangelj, Gorazd (Slo)
28. Tonti, Andrea (Ita)
Manager
: Giuseppe Martinelli
Illes Balears
31. Gutiérrez, José Ivan (Spa)
32. Arroyo, David (Spa)
33. Colom, Antonio (Spa)
34. Carrasco, José Luis (Spa)
35. Escobar, Sergi (Spa)
36. Garcia Acosta, José Vicente (Spa)
37. Julia, José Cayetano (Spa)
38. Karpets, Vladimir (Rus)
Manager
: Jose L.Jaimerena
Liberty Seguros-Wurth
41. Beloki, Joseba (Spa)
42. Davis, Allan (Aus)
43. Etxebarria, David (Spa)
44. Gil, Koldo (Spa)
45. Hernández, Jesús (Spa)
46. Nozal, Isidro (Spa)
47. Ribeiro, Nuno (Por)
48. Santos, Iván (Spa)
Manager
: Herminio Diaz Zabala
Gerolsteiner
51. Leipheimer, Levi (USA)
52. Haselbacher, René (Aut)
53. Hondo, Danilo (Ger)
54. Montgomery, Sven (Swi)
55. Peschel, Uwe (Ger)
56. Rich, Michael (Ger)
57. Krauss, Sven (Ger)
58. Wrolich, Peter (Aut)
Manager
: Udo Bolts
Saunier Duval-Prodir
61. Domínguez, Juan Carlos (Spa)
62. Casero, Rafael (Spa)
63. De La Fuente, David (Spa)
64. Edo, Angel (Spa)
65. Tafi, Andrea (Ita)
66. Cañada, David (Spa)
67. Cobo, Juan José (Spa)
68. Lobato Elvira, Rubén (Spa)
Manager
: Sabino Angoitia
Rabobank
71. Rasmussen, Michael (Den)
72. Eltink, Theo ((Hol)
73. Mutsaars, Ronald ((Hol)
74. Scheuneman, Niels ((Hol)
75. Sutherland, Rory (Aus)
76. Vastaranta, Jukka (Fin)
77. Wielinga, Remmert ((Hol)
78. Weening, Pieter ((Hol)
Manager
: Frans Maassen
Bouygues Telecom
81. Brochard, Laurent (Fra)
82. Bénéteau, Walter (Fra)
83. Bernaudeau, Giovanni (Fra)
84. Claude, Mathieu (Fra)
85. Gene, Yohann (Fra)
86. Naulleau, Alexandre (Fra)
87. Ravard, Anthony (Fra)
88. Mainguenaud, Frédéric (Fra)
Manager
: Christrphe Faudot
Team-Barloworld
91. Arreitunandia, Pedro (Spa)
92. Beuchat, Roger (Swi)
93. Carrara, Matteo (Ita)
94. Cheula, Giampaolo (Ita)
95. Jorgensen, René (Den)
96. Plaza, David (Spa)
97. Salomone, Antonio (Ita)
98. Tomi, Giulio (Ita)
Manager
: Valerio Tebaldi
Relax-Fuenlabrada
101. Almagro, José (Spa)
102. Bénitez, Javier (Spa)
103. Florencio, Xavier (Spa)
104. Burgos, Nacor (Spa)
105. Mayoz, Ivan (Spa)
106. Moreno, Daniel (Spa)
107. Pasamontes, Luis (Spa)
108. Vallejo, Angel (Spa)
Manager
: Jesus Suarez Cueva
Chocolade Jacques-T-Interim
111. Hovelyncr, Kurt (Bel)
112. Kleynen, Steven (Bel)
113. Mertens, Pieter (Bel)
114. Peeters, Jef (Bel)
115. Stubbe, Tom (Bel)
116. Van der Linden, Wesley ((Hol)
117. Veuchelen, Frederik (Bel)
118. Wynants, Maarten (Bel)
Manager
: J.P. Heynderickx
Acqua & Sapone-Adria Mobil
121. Hamburger, Bo (Den)
122. Arekeev, Alexandr (Rus)
123. D'Andrea, Alessandro (Ita)
124. D'Amore, Crescenzo (Ita)
125. Sosenka, Ondrej (Cze)
126. Golcer, Jure (Slo)
127. Marzoli, Ruggero (Ita)
128. Pospyeyev, Kyrylo (Ukr)
Manager
: Flavio Miozzo
Landbouwkrediet-Colnago
131. Cummings, Steven (GBR)
132. Dierckxsens, Ludo (Bel)
133. De Groote, Thierry (Bel)
134. Habeaux, Gregory (Bel)
135. Monfort, Maxime (Bel)
136. Verheyen, Geert (Bel)
137. Van de Walle, Jurgen (Bel) ???
138. Verstrepen, Johan (Bel)
Manager
: Claude Criquielion
Kaiku
141. Galparsoro, Dionisio (Spa)
142. Berasategui, Antonio (Spa)
143. Bru, Yon (Spa)
144. Lopez Gil, José Antonio (Spa)
145. Mosquera, Ezequiel (Spa)
146. Oarbeascoa, Rubén (Spa)
147. Ruiz, Javier (Spa)
148. Serrano, Ricardo (Spa)
Manager
: Oscar Guerrero
Mr.Bookmaker.com-Sports Tech
151. Castresana del Val, Angel (Spa)
152. Omloop, Geert (Bel)
153. Day, Ben (Aus)
154. Renders, Jens (Bel)
155. Van Dijck, Stefan ((Hol)
156. Paumier, Laurent (Fra)
157. Wuyts, Peter (Bel)
Manager
: Lucien Van Impe
24th Vuelta a Murcia (March 03-07, 2004): Final GC - Top 10 Places
1. VALVERDE, Alejandro (Spa - Comunidad Valenciana-Kelme) - 15h49'31"
2. GUTIERREZ, José Ivan (Spa - Illes Balears-Banesto) - at 05"
3. EVANS, Cadel (Aus - T-Mobile) - at 09"
4. PLAZA, Ruben (Spa - Comunidad Valenciana-Kelme) - at 20"
5. PETROV, Evgeni (Rus - Saeco) - at 37"
6. COLOM, Antonio (Spa - Illes Balears-Banesto) - at 01'10"
7. CAÑADA, David (Spa - Saunier Duval-Prodir) - at 01'13""
8. ELIAS, José Miguel (Spa - Relax-Bodysol) - at 01'40"
9. MARTIN PERDIGUERO, Miguel Angel (Spa - Saunier Duval-Prodir) - at 01'41"
10. PASCUAL RODRIGUEZ, Javier (Spa - Comunidad Valenciana-Kelme) - at 01'44"
Vuelta a Murcia - Past Winners
1981. Pedro Delgado (Spa)
1982. Salvatore Sanchis (Spa)
1983 .Francisco Javier Cedena (Spa)
1984. Ricardo Martínez (Spa)
1985. José Recio (Spa)
1986. Miguel Indurain (Spa)
1987. Pello Ruiz Cabestany (Spa)
1988. Carlos Hernández Bailo (Spa)
1989. Marino Alonso (Spa)
1990. Tom Cordes (Hol)
1991. José Luis Villanueva (Spa)
1992. Alvaro Meija (Col)
1993. Carlos Galarreta (Spa)
1994. Melchior Mauri (Spa)
1995. Adriano Baffi (Ita)
1996. Melchior Mauri (Spa)
1997. Juan Carlos Domínguez (Spa)
1998. Alberto Elli (Ita)
1999. Marco Pantani (Spa)
2000. David Cañada (Spa)
2001. Aitor González (Spa)
2002. Victor Hugo Peña (Col)
2003. Javier Pascual Llorente (Spa)
2004. Alejandro Valverde (Spa)
Until the 1984 edition included, the race was reserved for the Amateurs only; then also the pros were allowed to take part in the event, but only if from Spain. The Tour of Murcia finally turned international in the 1990 season, and a rider from abroad immediately entered his name in the winners list.