Vuelta a Murcia 2004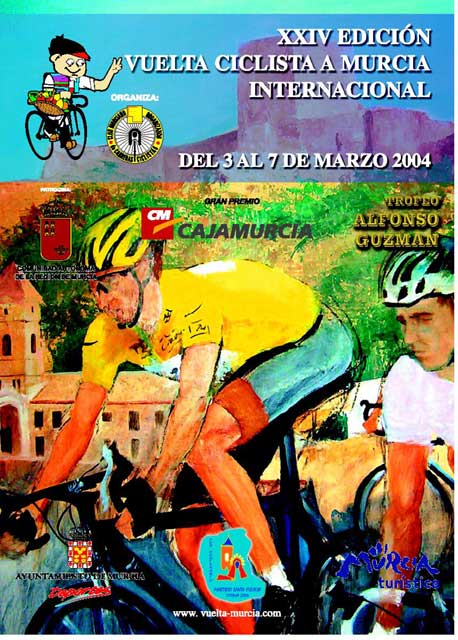 Please visit the official site Here
Murcia to Murcia 133 km
Overview
Should be for the sprinters but if there is only a small gap between the leaders the Cat 3 climb in the middle of the race could see a final bout of excitement. The unclassified climb at Cruce with just 20 kilometres to go could see a last gasp effort by riders like David Etxebarria, Di Luca or maybe even a rider like Maryan Hary.
Race Summary
After winning the Volta a la Comunitat Valenciana last week, Spain's Alejandro Valverde Belmonte added a new jewel to his sensational early season palmares by winning the Tour of Murcia overall on Sunday. It was a "home win" for the young Spaniard, who is from the same Murcia region. José Iván Gutiérrez took second in the GC, and another young prospect, Australia's Cadel Evans of T-Mobile, completed the podium. And it was the first time in the Tour of Murcia history that a local rider took the win on home soil. The fifth and final stage of the UCI-2.3 sanctioned event, raced over a 133-km. distance and both starting and finishing in the city of Murcia, was won by Brazilian sprinter Luciano André Pagliarini Mendonca of Lampre, who scored his third success of the season after taking two consecutive stages at Tour de Langkawi less than a month ago. The South American edged out Erik Zabel (one more placing for the German) and Spain's Miguel Angel Martín Perdiguero of the Saunier Duval-Prodir team.
Relax-Bodysol: Moises Duenas and Xavier Florencio – Xavier had a big day in the saddle on stage 5
Race Report
Mariano Piccoli (Lampre), Xavier Florencio (Relax Bodysol), and Mikel Pradera (Illes Balears-Banesto), went on the attack today and held off the peloton for the majority of the race.
With the peloton still together after the first intermediate sprint at Fortuna, (1st M.A Perdiguero, 2nd J.M Cuenca 3rd J.C Juliá ) the three musketeers Piccoli , Florencio and Pradera attacked and by the 65th kilometre had built a lead of over 4 minutes.
The three men shared the primes and points throughout the day and with 20 kilometres to go still had a lead of 1.44 over the peloton now being driven by the sprinters teams.
So a brave effort but inevitably the day came down to the sprinters.
STAGE 5   RESULT
<![if !supportEmptyParas]> <![endif]>
1º 34 PAGLIARINI, Luciano A. BRA LAMPRE 3:03:56
2º 56 ZABEL, Erik GER T-MOBILE mt.
3º 102 M.PERDIGUERO, M.A ESP SAUNIER DUVAL-PRODIR mt.
4º 46 FERNANDEZ, Koldo ESP EUSKALTEL-EUSKADI mt.
5º 98 WROLICH, Peter AUT GEROLSTEINER mt.
6º 75 MAZZOLENI, Eddy ITA SAECO mt.
7º 81 DEL RIO, Ion ESP COSTA ALMERIA-Patern mt.
8º 62 ELIAS, Jose Miguel ESP RELAX-BODYSOL mt.
9º 18 VAN HEESWIJK, Max NED U.S. POSTAL SERVICE mt.
10º 108 VENTOSO, Fco.José ESP SAUNIER DUVAL-PRODIR mt.
11º 92 FOTHEN, Marcus GER GEROLSTEINER mt.
12º 67 LOPEZ, Julio ESP RELAX-BODYSOL mt.
13º 12 BARRY, Michael CAN U.S. POSTAL SERVICE mt.
14º 124 GUTIERREZ, Francisco ESP CAFES BAQUE mt.
15º 36 SVORADA, Jan CZE LAMPRE mt.
16º 93 KRAUSS, Sven GER GEROLSTEINER mt.
17º 135 GABRIEL, Frédéric FRA MrBOOKMAKER-Palmans mt.
18º 103 ZABALLA, Constantino ESP SAUNIER DUVAL-PRODIR mt.
19º 105 CAÑADA, David ESP SAUNIER DUVAL-PRODIR mt.
20º 76 PETROV, Evgeni RUS SAECO mt.
21º 82 TORRENT, Carlos ESP COSTA ALMERIA-Patern mt.
22º 133 RENDERS, Jens BEL MrBOOKMAKER-Palmans mt.
23º 51 BAUMANN, Eric GER T-MOBILE mt.
24º 64 MARTINEZ, José Alberto ESP RELAX-BODYSOL mt.
25º 104 DOMINGUEZ, Juan Carlos ESP SAUNIER DUVAL-PRODIR mt.
26º 4 PLAZA, Ruben ESP COM.VALENCIANA-KELME mt.
27º 121 ARREITUNANDIA, Pedro ESP CAFES BAQUE mt.
28º 117 SPRICK, Matthieu FRA BRIOCHES LA BOULANGE mt.
29º 48 VERDUGO, Gorka ESP EUSKALTEL-EUSKADI mt.
30º 83 EUBA, Lander ESP COSTA ALMERIA-Patern mt.

31º 45 ZUBELDIA, Joseba ESP EUSKALTEL-EUSKADI a 07
32º 66 GUERRA, Hector ESP RELAX-BODYSOL a 07
33º 43 ETXEBARRIA, David ESP EUSKALTEL-EUSKADI a 07
34º 22 COLOM, Antonio ESP ILLES BALEARS-BANEST a 07
35º 85 GOMEZ, José Angel ESP COSTA ALMERIA-Patern a 07
36º 63 FLORENCIO, Xavier ESP RELAX-BODYSOL a 07
37º 38 CORTINOVIS, Alessandro ITA LAMPRE a 07
38º 37 VILA, Francisco J. ESP LAMPRE a 07
39º 42 ZUBELDIA, Haimar ESP EUSKALTEL-EUSKADI a 07
40º 11 ARMSTRONG, Lance USA U.S. POSTAL SERVICE a 07
41º 15 RINCON, Daniel COL U.S. POSTAL SERVICE a 07
42º 61 DUENAS, Moises ESP RELAX-BODYSOL a 07
43º 55 KONECNY, Tomas CZE T-MOBILE a 07
44º 14 PADRNOS, Pavel CZE U.S. POSTAL SERVICE a 07
45º 138 PLANCKAERT, Jo BEL MrBOOKMAKER-Palmans a 07
46º 72 FUENTES, Juan ESP SAECO a 07
47º 27 PRADERA, Mikel ESP ILLES BALEARS-BANEST a 07

48º 3 BLANCO, David ESP COM.VALENCIANA-KELME a 20
49º 53 EVANS, Cadel AUS T-MOBILE a 20
50º 1 VALVERDE, Alejandro ESP COM.VALENCIANA-KELME a 20
51º 131 VAN DE WOUWER, Kurt BEL MrBOOKMAKER-Palmans a 20
52º 13 BELTRAN, Manuel ESP U.S. POSTAL SERVICE a 20
53º 32 SCOTTO, Michele ITA LAMPRE a 20
54º 101 PIEPOLI, Leonardo ITA SAUNIER DUVAL-PRODIR a 20
55º 118 YUS, Unai ESP BRIOCHES LA BOULANGE a 20
56º 52 ULLRICH, Jan GER T-MOBILE a 20
57º 41 MAYO, Iban ESP EUSKALTEL-EUSKADI a 20
58º 33 GARATE, Juan Manuel ESP LAMPRE a 20
59º 123 LOPEZ, David ESP CAFES BAQUE a 20
60º 44 ISASI, Inaki ESP EUSKALTEL-EUSKADI a 20
61º 6 JULIA, Jose Cayetano ESP COM.VALENCIANA-KELME a 20
62º 78 SZMYD, Sylvester POL SAECO a 20
63º 35 PINOTTI, Marco ITA LAMPRE a 20
64º 73 CUNEGO, Damiano ITA SAECO a 20
65º 115 PICHON, Mickael FRA BRIOCHES LA BOULANGE a 20
66º 126 GUTIERREZ, Efrain ESP CAFES BAQUE a 20
67º 21 GUTIERREZ, José Ivan ESP ILLES BALEARS-BANEST a 20
68º 125 PEREZ, Aitor ESP CAFES BAQUE a 20

69º 2 P.RODRIGUEZ, Javier ESP COM.VALENCIANA-KELME a 25

70º 31 PICCOLI, Mariano ITA LAMPRE a 34

71º 26 NAVAS, David ESP ILLES BALEARS-BANEST a 36
72º 97 SCHMIDT, Torsten GER GEROLSTEINER a 36

73º 54 GUERINI, Giuseppe ITA T-MOBILE a 50
74º 58 KORFF, André GER T-MOBILE a 50

75º 96 RICH, Michael GER GEROLSTEINER a 01:07
76º 57 STEINHAUSER, Tobias GER T-MOBILE a 01:07
77º 114 HARY, Maryan FRA BRIOCHES LA BOULANGE a 01:07
78º 8 CUENCA, Juan Miguel ESP COM.VALENCIANA-KELME a 01:07
79º 65 BLANCO, Santiago ESP RELAX-BODYSOL a 01:07
80º 5 CABELLO, Francisco ESP COM.VALENCIANA-KELME a 01:07
81º 7 MARTINEZ, Jose Luis ESP COM.VALENCIANA-KELME a 01:07
82º 25 GARCIA, José Vicente ESP ILLES BALEARS-BANEST a 01:07
83º 24 HORRACH, Joan ESP ILLES BALEARS-BANEST a 01:07
84º 95 PESCHEL, Uwe GER GEROLSTEINER a 01:07
85º 88 NALLY, Dermot IRL COSTA ALMERIA-Patern a 01:07
86º 17 V.DEN BROECK, Jurgen BEL U.S. POSTAL SERVICE a 01:07
87º 77 SABALIAUSKAS, Marius LTU SAECO a 01:07

88º 87 PEREZ, Javier ESP COSTA ALMERIA-Patern a 01:22
89º 68 LAGUNA, Oscar ESP RELAX-BODYSOL a 01:22
90º 113 CHARTEAU, Anthony FRA BRIOCHES LA BOULANGE a 01:22

91º 16 RUBIERA, José Luis ESP U.S. POSTAL SERVICE a 01:25

92º 107 GOMIS, Juan ESP SAUNIER DUVAL-PRODIR a 01:43
93º 71 DI LUCA, Danilo ITA SAECO a 01:43
94º 74 SPEZIALETTI, Alessandr ITA SAECO a 01:43

95º 47 PEÑA, Aketza ESP EUSKALTEL-EUSKADI a 02:04
96º 86 LOPEZ, Joaquim ESP COSTA ALMERIA-Patern a 02:04

97º 134 HUNT, Jeremy GBR MrBOOKMAKER-Palmans a 02:07

98º 137 LEUKEMANS, Björn BEL MrBOOKMAKER-Palmans a 02:31

99º 28 LOPEZ, José Antonio ESP ILLES BALEARS-BANEST a 03:05

100º 106 DE LA FUENTE, David ESP SAUNIER DUVAL-PRODIR a 03:09
<![if !supportEmptyParas]> <![endif]>
General Classification
1º 1 VALVERDE, Alejandro ESP COM.VALENCIANA-KELME 15:49:31
2º 21 GUTIERREZ, José Ivan ESP ILLES BALEARS-BANEST a 05
3º 53 EVANS, Cadel AUS T-MOBILE a 09
4º 4 PLAZA, Ruben ESP COM.VALENCIANA-KELME a 20
5º 76 PETROV, Evgeni RUS SAECO a 37
6º 22 COLOM, Antonio ESP ILLES BALEARS-BANEST a 01:10
7º 105 CAÑADA, David ESP SAUNIER DUVAL-PRODIR a 01:13
8º 62 ELIAS, Jose Miguel ESP RELAX-BODYSOL a 01:40
9º 102 M.PERDIGUERO, M.A ESP SAUNIER DUVAL-PRODIR a 01:41
10º 2 P.RODRIGUEZ, Javier ESP COM.VALENCIANA-KELME a 01:44
11º 15 RINCON, Daniel COL U.S. POSTAL SERVICE a 02:01
12º 101 PIEPOLI, Leonardo ITA SAUNIER DUVAL-PRODIR a 02:08
13º 85 GOMEZ, José Angel ESP COSTA ALMERIA-Patern a 02:11
14º 64 MARTINEZ, José Alberto ESP RELAX-BODYSOL a 02:41
15º 118 YUS, Unai ESP BRIOCHES LA BOULANGE a 02:53
16º 42 ZUBELDIA, Haimar ESP EUSKALTEL-EUSKADI a 03:21
17º 63 FLORENCIO, Xavier ESP RELAX-BODYSOL a 03:32
18º 56 ZABEL, Erik GER T-MOBILE a 04:01
19º 123 LOPEZ, David ESP CAFES BAQUE a 04:21
20º 131 VAN DE WOUWER, Kurt BEL MrBOOKMAKER-Palmans a 04:28
21º 103 ZABALLA, Constantino ESP SAUNIER DUVAL-PRODIR a 04:42
22º 12 BARRY, Michael CAN U.S. POSTAL SERVICE a 04:55
23º 11 ARMSTRONG, Lance USA U.S. POSTAL SERVICE a 05:41
24º 73 CUNEGO, Damiano ITA SAECO a 05:43
25º 41 MAYO, Iban ESP EUSKALTEL-EUSKADI a 06:13
26º 38 CORTINOVIS, Alessandro ITA LAMPRE a 06:30
27º 33 GARATE, Juan Manuel ESP LAMPRE a 06:39
28º 121 ARREITUNANDIA, Pedro ESP CAFES BAQUE a 06:44
29º 115 PICHON, Mickael FRA BRIOCHES LA BOULANGE a 06:51
30º 126 GUTIERREZ, Efrain ESP CAFES BAQUE a 06:55
31º 48 VERDUGO, Gorka ESP EUSKALTEL-EUSKADI a 07:10
32º 37 VILA, Francisco J. ESP LAMPRE a 07:14
33º 43 ETXEBARRIA, David ESP EUSKALTEL-EUSKADI a 08:12
34º 27 PRADERA, Mikel ESP ILLES BALEARS-BANEST a 08:23
35º 71 DI LUCA, Danilo ITA SAECO a 11:27
36º 67 LOPEZ, Julio ESP RELAX-BODYSOL a 11:59
37º 16 RUBIERA, José Luis ESP U.S. POSTAL SERVICE a 12:02
38º 26 NAVAS, David ESP ILLES BALEARS-BANEST a 13:56
39º 135 GABRIEL, Frédéric FRA MrBOOKMAKER-Palmans a 15:16
40º 66 GUERRA, Hector ESP RELAX-BODYSOL a 15:32
41º 3 BLANCO, David ESP COM.VALENCIANA-KELME a 15:46
42º 104 DOMINGUEZ, Juan Carlos ESP SAUNIER DUVAL-PRODIR a 15:52
43º 82 TORRENT, Carlos ESP COSTA ALMERIA-Patern a 16:07
44º 133 RENDERS, Jens BEL MrBOOKMAKER-Palmans a 16:16
45º 55 KONECNY, Tomas CZE T-MOBILE a 16:32
46º 14 PADRNOS, Pavel CZE U.S. POSTAL SERVICE a 16:41
47º 18 VAN HEESWIJK, Max NED U.S. POSTAL SERVICE a 16:43
48º 6 JULIA, Jose Cayetano ESP COM.VALENCIANA-KELME a 17:21
49º 13 BELTRAN, Manuel ESP U.S. POSTAL SERVICE a 17:22
50º 44 ISASI, Inaki ESP EUSKALTEL-EUSKADI a 17:22
51º 17 V.DEN BROECK, Jurgen BEL U.S. POSTAL SERVICE a 17:24
52º 65 BLANCO, Santiago ESP RELAX-BODYSOL a 17:36
53º 5 CABELLO, Francisco ESP COM.VALENCIANA-KELME a 17:59
54º 77 SABALIAUSKAS, Marius LTU SAECO a 18:12
55º 31 PICCOLI, Mariano ITA LAMPRE a 18:36
56º 32 SCOTTO, Michele ITA LAMPRE a 18:48
57º 78 SZMYD, Sylvester POL SAECO a 19:01
58º 54 GUERINI, Giuseppe ITA T-MOBILE a 20:08
59º 93 KRAUSS, Sven GER GEROLSTEINER a 20:09
60º 137 LEUKEMANS, Björn BEL MrBOOKMAKER-Palmans a 20:27
61º 92 FOTHEN, Marcus GER GEROLSTEINER a 20:29
62º 106 DE LA FUENTE, David ESP SAUNIER DUVAL-PRODIR a 21:00
63º 113 CHARTEAU, Anthony FRA BRIOCHES LA BOULANGE a 21:06
64º 45 ZUBELDIA, Joseba ESP EUSKALTEL-EUSKADI a 21:11
65º 83 EUBA, Lander ESP COSTA ALMERIA-Patern a 22:55
66º 35 PINOTTI, Marco ITA LAMPRE a 23:10
67º 97 SCHMIDT, Torsten GER GEROLSTEINER a 23:27
68º 96 RICH, Michael GER GEROLSTEINER a 23:33
69º 117 SPRICK, Matthieu FRA BRIOCHES LA BOULANGE a 24:05
70º 74 SPEZIALETTI, Alessandr ITA SAECO a 24:12
71º 52 ULLRICH, Jan GER T-MOBILE a 24:18
72º 98 WROLICH, Peter AUT GEROLSTEINER a 24:56
73º 114 HARY, Maryan FRA BRIOCHES LA BOULANGE a 24:57
74º 57 STEINHAUSER, Tobias GER T-MOBILE a 25:12
75º 75 MAZZOLENI, Eddy ITA SAECO a 25:29
76º 107 GOMIS, Juan ESP SAUNIER DUVAL-PRODIR a 25:31
77º 68 LAGUNA, Oscar ESP RELAX-BODYSOL a 26:08
78º 8 CUENCA, Juan Miguel ESP COM.VALENCIANA-KELME a 26:39
79º 87 PEREZ, Javier ESP COSTA ALMERIA-Patern a 26:58
80º 134 HUNT, Jeremy GBR MrBOOKMAKER-Palmans a 27:39
81º 86 LOPEZ, Joaquim ESP COSTA ALMERIA-Patern a 28:05
82º 138 PLANCKAERT, Jo BEL MrBOOKMAKER-Palmans a 28:28
83º 34 PAGLIARINI, Luciano A. BRA LAMPRE a 28:34
84º 36 SVORADA, Jan CZE LAMPRE a 29:55
85º 124 GUTIERREZ, Francisco ESP CAFES BAQUE a 33:13
86º 7 MARTINEZ, Jose Luis ESP COM.VALENCIANA-KELME a 34:43
87º 58 KORFF, André GER T-MOBILE a 35:06
88º 47 PEÑA, Aketza ESP EUSKALTEL-EUSKADI a 35:54
89º 81 DEL RIO, Ion ESP COSTA ALMERIA-Patern a 36:01
90º 24 HORRACH, Joan ESP ILLES BALEARS-BANEST a 38:33
91º 72 FUENTES, Juan ESP SAECO a 39:37
92º 46 FERNANDEZ, Koldo ESP EUSKALTEL-EUSKADI a 40:50
93º 125 PEREZ, Aitor ESP CAFES BAQUE a 41:46
94º 51 BAUMANN, Eric GER T-MOBILE a 43:22
95º 88 NALLY, Dermot IRL COSTA ALMERIA-Patern a 43:24
96º 95 PESCHEL, Uwe GER GEROLSTEINER a 45:03
97º 61 DUENAS, Moises ESP RELAX-BODYSOL a 45:03
98º 25 GARCIA, José Vicente ESP ILLES BALEARS-BANEST a 45:26
99º 108 VENTOSO, Fco.José ESP SAUNIER DUVAL-PRODIR a 45:41
100º 28 LOPEZ, José Antonio ESP ILLES BALEARS-BANEST a 48:17