Vuelta a Murcia 2004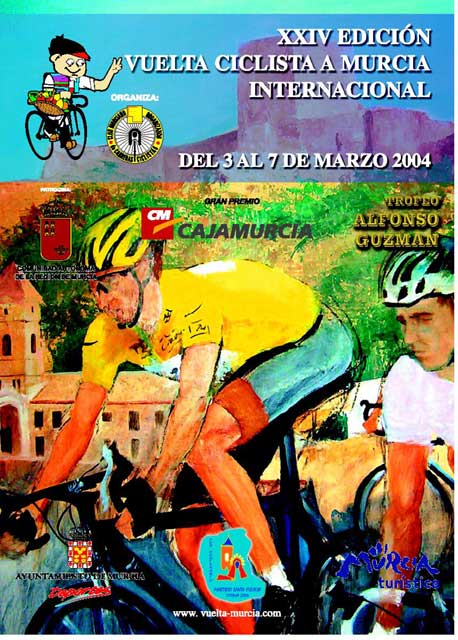 Please visit the official site Here
Vuelta a Murcia 2004
Overview
Arguably the biggest stage race of the year so far the Vuelta a Murcia poses more questions than it will answer.
Armstrong, Mayo, Zubeldia, Valverde and Ullrich should be riding but perhaps more telling is that Roberto Heras is not. Indeed his Liberty Seguros team have chosen not to enter the race at all. Manolo Saiz has put the cat once again amongst the pigeons but turning his back on the usual Spanish team convention of supporting Spanish races by instead sending his teams to ride Paris Nice and Tirreno-Adriatico , pointing out, his 19 man team does not have the resources to ride all three races.
Meanwhile fans of Beloki must be getting a little worried. Tendonitis has ruled out the early part of his season and he is not named (as yet) in the starting line up for ANY race so far.
Last year saw Javier Pascual Llorente (Kelme) not only take the overall but also be one of a select band of riders who can say they recently beat Armstrong in a Time Trial. Indeed it will probably be the big names will be using the 21 kilometre time trial on stage two to judge their progress, while the real racing will be amongst riders aiming for early season glory. Armstrong will be particulary interested to ride against the Gerolstiener "Locomotive" of Uwe Peschel, Markus Fothen and Michael Rich,
If Stages 2 is for the men against the clock and stages 1, 3, and 5 are for the Sprinters then the Queen Stage on day 4 will probably decide the overall. Very few people would bet against Valverde this season, although the Kelme team (who have possibly the worst website of any cycling team including amateur sites) have not officially announced their team yet.
Always an interesting race – the Daily Peloton will be covering the race from Spain so don't touch that dial!
Teams
Euskaltel-Euskadi David Etxebarria, Koldo Fernández de Larrea, Iñaki Isasi, Iban Mayo, Aketza Peña , Gorka Verdugo, Haimar Zubeldia , Joseba Zubeldia
Illes Balears-Banesto Toni Colom, Isaac Gálvez , Chente García Acosta, Iván Gutiérrez, José Antonio López, Joan Horrach, David Navas.Mikel Pradera
Relax-Bodysol – Nacor Burgos Rojo . Gustavo César Veloso , Gustavo Dominguez Lemos, Moisés Dueñas Nevado, José M. Elías Galindo. Julio Lopez de la Torre, José A. Martinez Trinidad , Iban Mayoz Etxeberria , Xavier Florencio Cabré
.Valenciana-Kelme - Alejandro Valverde , Ruben Plaza Molina
Café Baqué
Costa Almeria-Paternina
Saunier-Duval Prodir Juan Carlos Domínguez
Gerolsteiner Gianni Faresin, Uwe Hardter, Sven Krauß, Uwe Peschel, Markus Fothen, Michael Rich, Torsten Schmidt, Peter Wrolich
T-Mobile (Ger) Eric Baumann (23), Cadel Evans (27/Australien), Giuseppe Guerini (34/Italien), Tomas Konecny (30/Tschechien), André Korff (30), Tobias Steinhauser (32), Jan Ullrich (30) und Erik Zabel (33).
Lampre (Ita)- - Alessandro Cortinovis, ,Juan Manuel Garate, Luciano Pagliarini, Mariano Piccoli, Marco Pinotti, Michele Scotto d'Abusco, Jan Svorada, Patxi Vila
Saeco (ITA) , Di Luca , Juan Fuentes, Eddy Mazzoleni, Evgeni Petrov, Marius Sabaliauskas, Sylwester Szmyd and Damiano Cunego -who replaces flu victim Andrea Tonti.
Brioches La Boulangère (Fra) Anthony Charteau, Maryan Hary, Rony Martias . Alexandre Naulleau , Mickaël Pichon, Matthieu Sprick, Unaï Yus
Mr Bookmaker-Palmans (Bel) Frédéric Gabriel, Jeremy Hunt, Philippe Koechler, Eddy Lembo, Björn Leukemans, Jens Renders, Kurt Van De Wouwer, Peter Wuyts-
US Postal-Berry Floor (Usa)- Lance Armstrong, José Luis Rubiera Vigil, Manuel Beltran Martinez, Michael Barry , Pavel Padrnos , Daniel Rincon Quintana , Jürgen Van den Broeck , Max van Heeswijk -
Parcours
Total Kilometres 656,7
Time Trial Length 21,3
Stage 1
Murcia to San Pedro del Pinatar 177 km

A couple of stiff climbs to warm the legs up and the sprinters teams will be looking to hold the race together for their fast men. Max van Heeswijk, Erik Zabel, and Jan Svorada will be looking to take first blood. Keep an eye open for Jeremy Hunt, very experienced of riding in Spain since his Banesto days and the Mr Bookmaker team seem on fine form.
Stage 2
Lorca to Lorca Ind. Time Trial 21,3 km

Lance Armstrong will be looking to repeat his winning performance in Portugal, but the competition is a little more serious this time round. Jan Ullrich, Uwe Peschel, Michael Rich and Haimar Zubeldia will all be looking to make a mark. It could well be Gerolsteiners day as Markus Fothen, the World and European U23 TT Champ, is also riding which could see them dominate the day.
Stage 3
Yecla to Yecla 156,4 km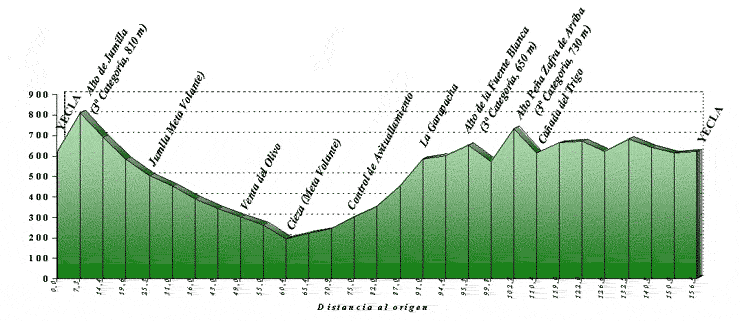 A day for the small Spanish teams to launch an early break and the big guns to hunt them down for their sprinters.
Stage 4
Totana to Collado Bermejo 169 km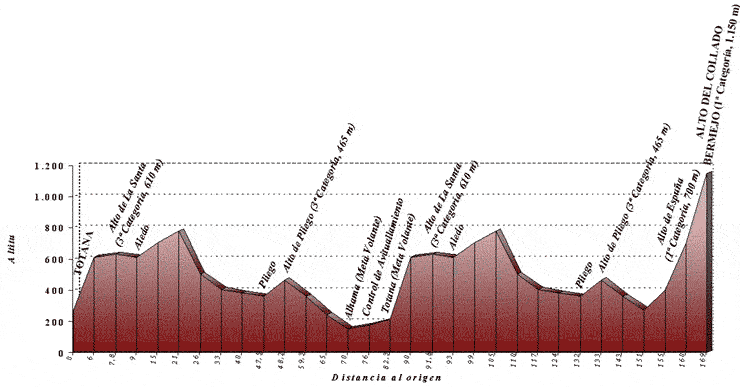 The "Queen Stage" with 4 cat 3 climbs and a cat 1 mountain top finish. Armstrong, Mayo and Ullrich wil be watching each other closely which means riders like Kurt Van De Wouwer , Juan Manuel Garate , Cadel Evans or Giuseppe Guerini could be the days winners.
Stage 5
Murcia to Murcia 133 km
Should be for the sprinters but if there is only a small gap between the leaders the Cat 3 climb in the middle of the race could see a final bout of excitement. The unclassified climb at Cruce with just 20 kilometres to go could see a last gasp effort by riders like David Etxebarria, Di Luca or maybe even a rider like Maryan Hary.