Paris-Roubaix
Please visit the official site click here
"jamais un cloche ne gagne la Pascale"
So who should be called "Mr Roubaix"? Certainly the name is often linked to Roger De Vlaeminck while the rides of Francesco Moser, Eddy Merckx, Gilbert Duclos-Lassalle, Franco Ballerini and, of course, Johan Museeuw are also forever in the hearts of cycling fans. However, one man is responsible for no less than 7 podium places; outspoken, forthright and headstrong Patrick Lefevere has had a remarkable record in the race.
Ballerini

1995: Having already failed vis-a-vis against Gilbert Duclos-Lassalle in 1993, and 3rd in 1994, Franco Ballerini wins Paris-Roubaix for the Mapei-GB team, Johan Museeuw, his team-member, is third.
The lion roars!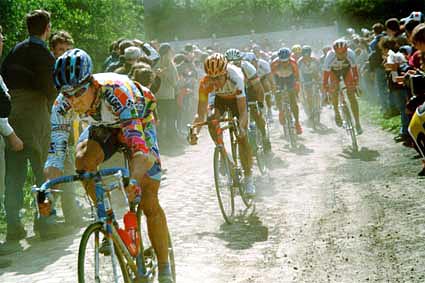 1996:The first year of four clean sweeps of the podium. Museeuw, Bortolami and Tafi make a Mapei result which was thought at the time to be unique and unrepeatable. As Lefevere commented at the time - "without the puncture of Ballerini, we would have taken the first four places."
However such is the politics of the peloton, it needed the personal intervention of Squinzi to convince Tafi of the team tactics.
1998: Ballerini solo's to glory. Behind him, Tafi and Peeters play the team game until his victory is assured, then make their move for second and third place. The second Mapei triplet.
1999: Andrea Tafi finally gets the victory he has been searching for. Peeters and Steels complete the Mapei podium.
2000:Johan Museeuw wins the race in triumphant style in a marvellous comeback following his terrible knee injury sustained in the previous year's race in the notorious tranchée de Wallers-Arenberg.
2001: DOMO-nation, Patrick Lefevere again comes up trumps. Prior to the race "Lotto tops -Domo flops" had been seen painted on the roads of Belgium; this race ended any thoughts that Lefevere had lost his touch. While the fans looked to Museeuw or Vainsteins it was Servais Knaven who took off down the road for victory. Museeuw and Vainsteins ride a perfect team race and join Knavens on the podium.
2002: In another class, Johan Museeuw Domo-nates the 100th édition of Paris-Roubaix, the other headline grabber that day young Tom Boonen, who will ride with Museeuw this year.