'Ciclista Maravilla'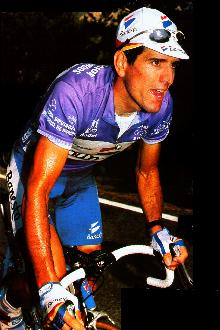 Abraham Olano was born on the 22nd of January 1970 in Anoeta in the cycling mad Basque region of Northern Spain. The third of six children and although money was tight, all the children had a bicycle. His father, Jon, had been a keen cyclist in his youth and since the family budget to did extend to buying new machines, he would carefully build bicycles for his children from parts of old bikes.
By the time Olano was 9 years old he had his first racing bike, not a sleek Pinarello, on which he later earned fame and fortune, but rather a more modest bright blue Emporium machine. 1981 turned out to be a pivotal year for Abraham. The family went to see the World Cyclocross Championships in nearby Tolosa. His father remembers the day - "Abraham was deeply impressed by the face of a Swiss rider who was suffering a great deal. It was obviously an image that stuck with him for many days after the event he still commented about it."
So Olano was caught up with "cycling fever" and soon was racing as a junior. In his first season, 1987, he was junior Basque Champion in the Kilometre, Olympic pursuit and sprint. The following year, 1988, saw Olano the track specialist, being a triple junior Spanish champion (sprint, kilometre and team pursuit).
He continued his good progress and in 1991 as an Amateur recorded 8 victories including overall in the Tour du Hainaut and the Vuelta a Zamora. 1992 was another successful year with overall victories in the Vuelta Bidasoa (a race that includes the hills of the Jaizkibel, Aritxulegui and Aguiña) and Grand Prix Berriatua. Riding as a stagiare for Festina Lotus, Olano also won the Grand Prix Villanfranca de Ordizia.
However it was with the Clas-Cajastur team that Olano made his pro debut the following season. It was a debut season that proved that Olano could ride competitively with the top men - two second places (Grand Prix Zamudio and Trophée de Castille-Léon)- and an excursion to America to gain 17th place in the Dupont Tour. The chubby sprinter soon lost weight and discovered his real ability in the pro-peloton was in the time trial; it was a transition Olano only achieved with much hard work and dedication.
In 1994 Olano joined the Mapei Clas team and began to show what potential he had. He achieved a rare double of being National Champion of both road and time trial disciplines and achieved 5 other victories. By now the similarities in looks and riding style between Olano and the great Miguel Indurain had been noted and Olano was expected to pick up the mantle of the Tour great when Big Mig hung up his wheels. 30th place in the Tour de France and 17th place in the Vuelta seemed to confirm that Olano would be Spain's next major Tour player.

So the 1995 season was full of promise for Olano. However, a fall in the Criterium International scuppered his plans for the Tour de France. In the Vuelta Espana Olano found himself riding against a truly mighty ONCE team with Jalabert in quite magnificent form. Jalabert not only won the overall but also the King of the Mountains competition, the points competition for consistency, and five stages. Olano was the only rider to challenge the Once after the race he said "I just had to hope ONCE and Jalabert had a bad day. But it didn't happen." Nevertheless, second place (with ONCE taking the other three spots in the top four (Bruyneel 3rd and Mauri 4th) seemed to confirm Olano's potential as a Grand Tour rider.

The World Championships in Duitama, Colombia: The time trial on October 4th saw Miguel Indurain in tremendous form to take the race, however Olano was the only rider to post a time anywhere close and his second place gave Spain a unique double.

The road race saw Indurain enter the race as the big favourite, but a series of punctures plus the fact he was a marked men saw Olano race take advantage of the situation. On a difficult course at altitude, just nine riders were left on the penultimate lap: Indurain, JImenez, Olano, Pantani, Richard, Gianetti, Virenque, Rincon and Konychev. Indurain attacked but was marked back allowing Olano to go off on a counter-attack.

"Miguel had just come back after his puncture. Then he attacked. Konychev, then Richard put in an effort and bridged to him and I attacked. I felt very strong. I owe a great deal to Miguel."

Inspite of cramps and a puncture in the last kilometre, with team mates Indurain and Jimenez blocking any counter-attack behind Olano held onto a narrow lead to take the race - the first ever World Road race victory for Spain - and another double for the all conquering Indurain/Olano duo. "Today we are friends and it is a great result for Spain," said Olano.



So a great 1995 for Olano - who finished 8th UCI ranked rider in the world.
1996 and still with the Mapei GB team saw yet another improvement for Olano. Allowed a free hand in the Giro d'Italia by his Mapei team following victory in the Tour de Romandie (and two stages), the Giro d'Italia turned out to be a battle royale between himself and Pavel Tonkov. With little to divide the two riders on stage 20, Olano finished one second ahead of rival Pavel Tonkov (Ceramiche Panaria) on the gruelling Dolomite mountain stage to take the leader's jersey by a margin of less than a second. But the real test was the following day when the peloton faced the Passo del Mortirolo, which tops out at 6,111 feet with an average grade of 10.5 percent over 12 kilometers. Olano was rightfully nervous about the stage
"I am not a very strong climber and tomorrow will be a very hard stage," Olano said. "We're all dead. Today was very hard."
The Mortirolo saw Tonkov and Gotti surge away while Olano struggled to keep pace; he eventually finished nearly three minutes behind, just enough to keep a podium place, but the Achilles heel in Olano's armour was clear to see - he could not really cope with the Queen mountain stages in the Grand Tours.
Nevertheless, the 26 year old finished ninth in the Tour de France, which considering he was acting as chief domestique for Tony Rominger, was considered at the time to be proof enough of his status as a Grand Tour contender. Meanwhile things were not always so happy in the Mapei team; he was nicknamed "little lord Abraham" by his fellow domestiques because of his unwillingness to pull his weight.
However the Spanish double act of Indurain and Olano once again ended the season (and Indurain's career) on a high note. The duo dominated the time trail event in the Olympic games Atlanta to give Spain another first and second spot.
Photos thanks to BBC, Sportec, Santini, Ada wheels.