March 10, 2018
Soler strikes to steal the show in Nice
Torrential rain did nothing to dampen the drama as Marc Soler staged a quiet coup to take the overall.
Team Sky's David de la Cruz took the stage win to bring the curtain down on the Paris Nice, edging out Omar Fraile (Astana). It was to Marc Soler though, finishing third with 35 seconds advantage over a chasing pack of GC contenders that mase the biggest impact, leaping from fifth to the top step of the podium with a margin of just four seconds.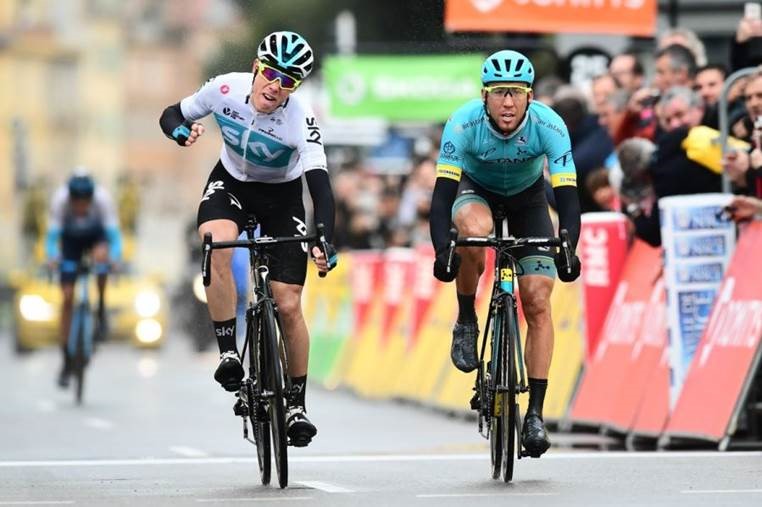 Del A Cruz edges Fraille for the stage ©A.S.O. / Alex Broadway

The Yates brothers are experiencing a see-sawign of fates. While brother Adam mimicked him with a stage win at Terrnio-Adriacico Simon had to endure his dream of glory slip 24-year-old Movistar rider Marc Soler.
The Spaniard started the day 37 seconds behind Yates but after a 110km of rain swept roads crossed the line with a four-second lead over the Briton,
Soler, the first rider since Alberto Contador in 2007 to win both the yellow and the best young ride white jersey, was a member of a trio with David De La Cruz (Sky) and Omar Fraile (Astana) which he attacked on Cote de Peille, one of six climbs on the final day's menu. De La Cruz snatched the final stage for the second year in succession ahead of Fraile, with Soler three seconds behind. And it was only thanks to his third place time bonus that Soler was finally declared the 2018 Paris-Nice champion for the first World Tour victory of his career.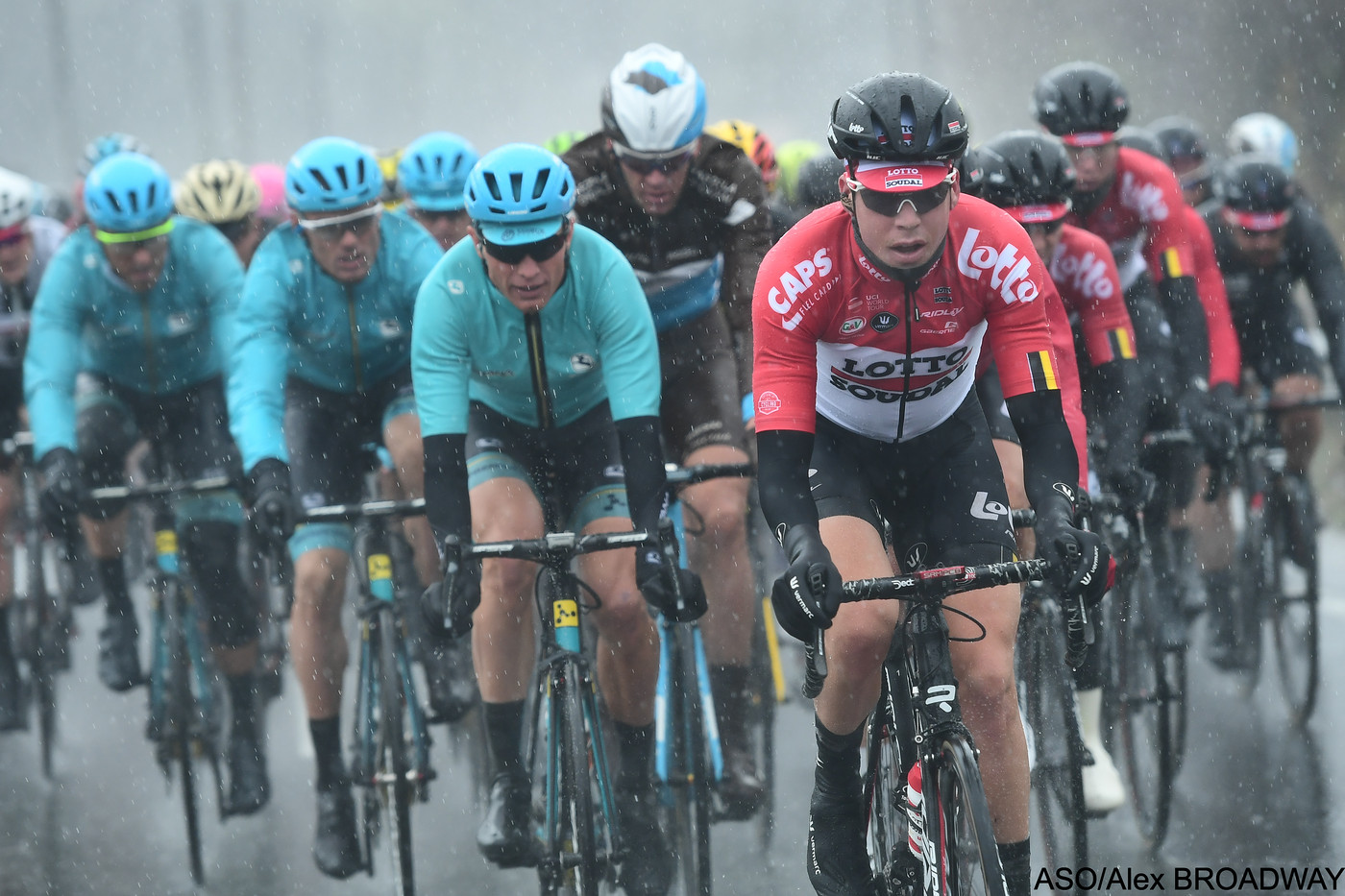 Rain soaked peloton ©A.S.O. / Alex Broadway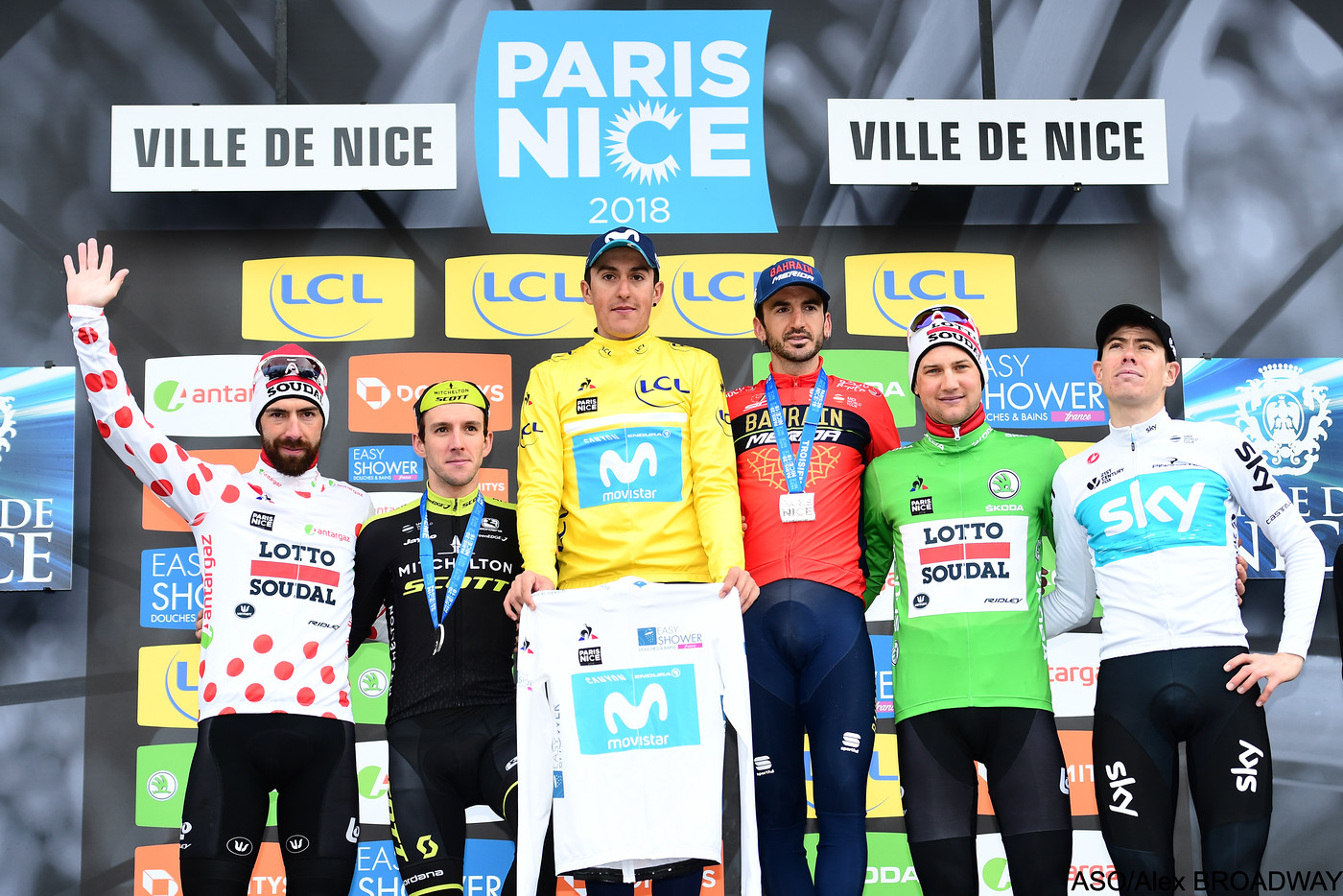 Paris Nice2018 - 2018/03/11 - Etape 8 - Nice / Nice (110 km) - Thomas DE GENDT (LTS); Simon YATES (MTS); Marc SOLER (MOV); Gorka IZAGUIRRE (TBM); Tim WELLENS (LTS) et David DE LA CRUZ (SKY) ©A.S.O. / Alex Broadway

Video Summary- Stage 8
Stage 8 Results and Final GC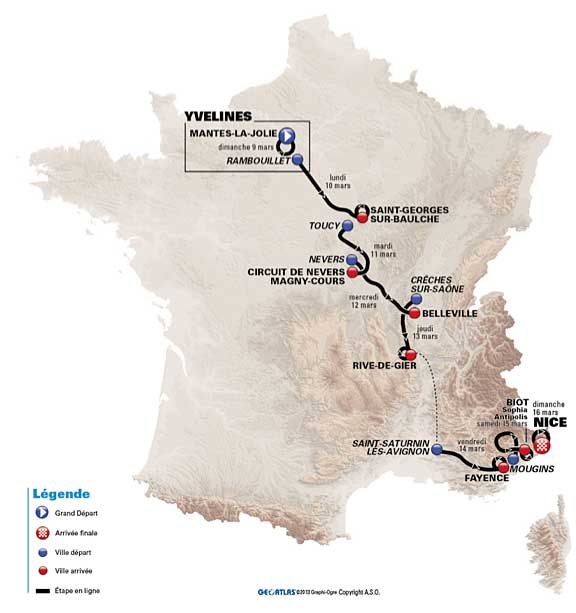 4/3 Stage 1 - Chatou › Meudon (135k)
5/3 Stage 2 - Orsonville › Vierzon (187k)
6/3 Stage 3 - Bourges › Châtel-Guyon (210k)
7/3 Individual Time Trial - La Fouillouse › Saint-Étienne (18.4k)
8/3 Stage 5 - Salon-de-Provence › Sisteron (163.5k)
9/3 Stage 6 - Sisteron › Vence (188k)
10/3 Stage 7 - Nice › Valdeblore La Colmiane (175k)
11/3 Stage 8 - Nice › Nice (110k)
---