March 4, 2018
Luis Leon Sanchez leads Paris-Nice going into Stage 4 Individual Time Trial
Astana's Luis Leon Sanchez has the race lead taking over from Arnaud Démare after a second place behind Jonathan Hivert of Direct Energie on stage three.
At 210 kilometres, it was the longest stage of this year's Paris-Nice, taking the roders from Bourges to Chatel-Guyon. Right from the start the day's breakaway went clear from the peloton, creating a large gap that reached 7.30 minutes.

Going into the final lap of the finish area, the race was back together, preparing for the challenge on the final climb. Immediately there were fireworks with Jakob Fuglsang and Luis Leon Sanchez attacking in a big group. After several attempts by Jakob Fuglsang to launch a smaller leading group, it was Luis Leon Sanchez who attacked and rode across to the lone leader Remy di Gregorio, followed by Jonathan Hivert.
While the other groups were back together, the three leaders were defending an advantage of 56 seconds going into the final 10 kilometers. They managed to stay in front of the chasing peloton, so Jonathan Hivert could sprint to a stage victory ahead of Luis Leon Sanchez, who gained enough to slip into the yellow leaders jersey, with di Gregorio third.


Hivert wins ©A.S.O. / Alex Broadway

Luis Leon Sanchez, for whom it has been seven years since he held the yellow jersey at Paris-Nice, said, "2First of all I want to say again thank you to the team for the great work they've done today, we keep holding this high level from the start of the season. At the final climb we did a good job together with Jakob Fuglsang, we stayed very focused in that moment. Later I saw a possibility for an attack, I thought it was a right moment and tried to use it. I went away with two guys and my first thought was to fight for a stage victory. So, finally it was possible to hold the advantage to the rivals and now I am in the yellow jersey and that's of course really nice. Tomorrow we will have the first big test in this Paris-Nice. I hope to recover as well as possible after today's effort and to do my best in tomorrow's TT to keep my yellow jersey. Let's see how it works out"
Stage 3 Results and GC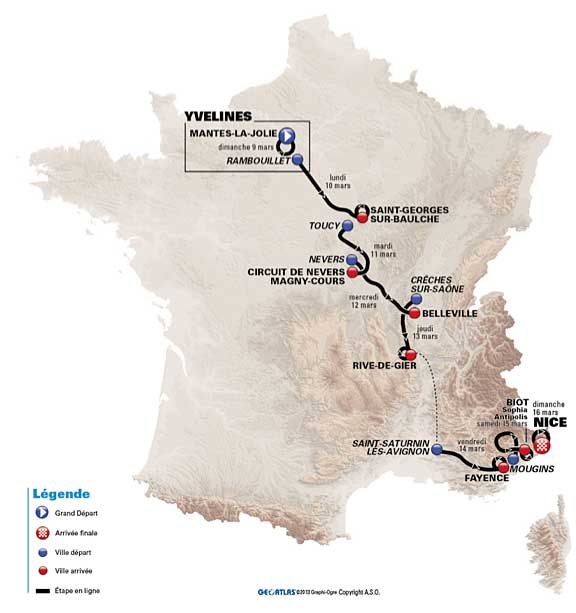 4/3 Stage 1 - Chatou › Meudon (135k)
5/3 Stage 2 - Orsonville › Vierzon (187k)
6/3 Stage 3 - Bourges › Châtel-Guyon (210k)
7/3 Individual Time Trial - La Fouillouse › Saint-Étienne (18.4k)
8/3 Stage 5 - Salon-de-Provence › Sisteron (163.5k)
9/3 Stage 6 - Sisteron › Vence (188k)
10/3 Stage 7 - Nice › Valdeblore La Colmiane (175k)
11/3 Stage 8 - Nice › Nice (110k)
---