February 14, 2018
Froome faces his public with return to racing at the Ruta Del Sol
Chris Froome will have been wondering what sort of reception he'll get when he signs on at the 64th Vuelta a Andalucia Ruta Ciclista Del Sol this Wednesday in Mijas - probably not the one he received the last time he raced.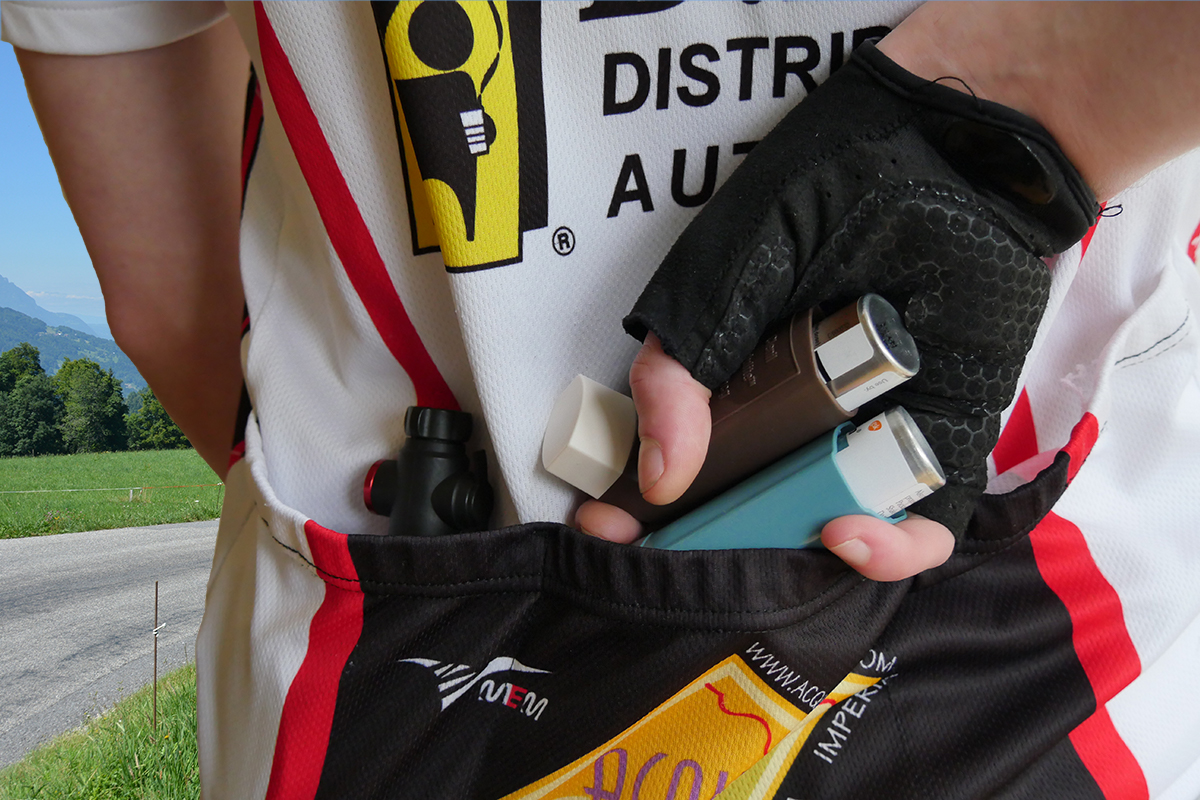 It's been two clear months since Chris Froome's Adverse Analytical Finding (AAF) for salbutalmol was made public following a joint investigation by The Guardian and Le Monde newspapers.
Two months of outrage, rumours and fake news. loudest amongst all have been repeated calls from key figures in the sport for Froome to effectively ban himself, pending what many believe is a pointless process ahead of a foregone conclusion.
However, instead of meekly cowing to the court of public opinion, Chris Foome has not only decided to not slink off into a form of self-imposed purdah as demanded of him, but instead has had the temerity to strap on his shoes and helmet and resume racing.
You can hear the wails of incredulity matched by the hard tapping of the twitterati keyboard warriors. Froome has broken the rules they cry and must be banned. Fortunately, there are rules that protect Froome from such mob rule, a point lost on them entirely.
Ruta del Sol was a calculated choice
Long hours will have been spent in the Sky camp choosing the right race to open Froome's 2018 season. Both sporting and political factors will have been weighed up and plumping for Spain will no doubt have been based on the calculation that Spanish fans and press are likely to be the least aggressive in their reaction, at least compared with their counterparts in France, Italy and indeed the UK.
It would after all be a tad hypocritical for the Spanish to go after Froome for having an adverse finding for an asthma drug when their own recently retired member of cycling royalty, Alberto Contador, is feted as a hero despite being banned for clenbuterol, a drug whose performance enhancing capabilities are far less debatable.
Froome will sign on with his future still in doubt though, a matter that is causing a great deal of annoyance both in the cycling press and amongst certain of his fellow professionals., many of whom regard the AAF has sufficient proof of a crime so heinous it can only be met with a lengthy ban.
The reaction to an AAF for something like salbutamol has been extreme to say the least.
The love-child of Lance Armstrong and OJ Simpson
From the outset the reaction has been a mix of pius moralising and pitchfork wielding outrage, so much so you'd be forgiven for thinking Froome was the love-child of Lance Armstrong and OJ Simpson, with a strand of Charles Manson's DNA for good measure.
Maybe that's a bit extreme but so was the reaction of many in the press to an adverse finding of salbutamol, a drug that even WADA struggles to justify as performance enhancing.. In an article in Cyclist, Olivier Rabin, senior director of science and international relationships at WADA said,. 'There have been several studies, including animal models, showing that beta-2 agonists such as salbutamol can have an effect on muscle mass".
The article went onto explain, however, that WADA's rules on upper linits weren't based on specific doping studies but on manufacturers dosage recommendations. Somewhat like saying it is recommneded to have eight glasses of water a day so lets set the doping limit at nine glasses of water, because of course the more you have the faster you'll go.
In a study published in November 2015, it was concluded that "High-Dose Inhaled Salbutamol Does Not Improve 10-km Cycling Time Trial Performance". That's at a distance far less than a single climb on the stage in question onin La Vuelta.
In fact a key feature of public discourse amongst many journalists and cycling fans has been the way any debate over the actual efficacy of salbutamol as a performance enhancer has been subordinant to the 'fact' that Froome had 'broken the rules' and should be punished come what may, as exemplified by another remark from Lemond. referring to Froome's claim he took three extra puffs before doping control he said,
"That is the most ridiculous excuse I have ever heard. If this is what he claims, then it's simple, he broke the rules and should be punished accordingly."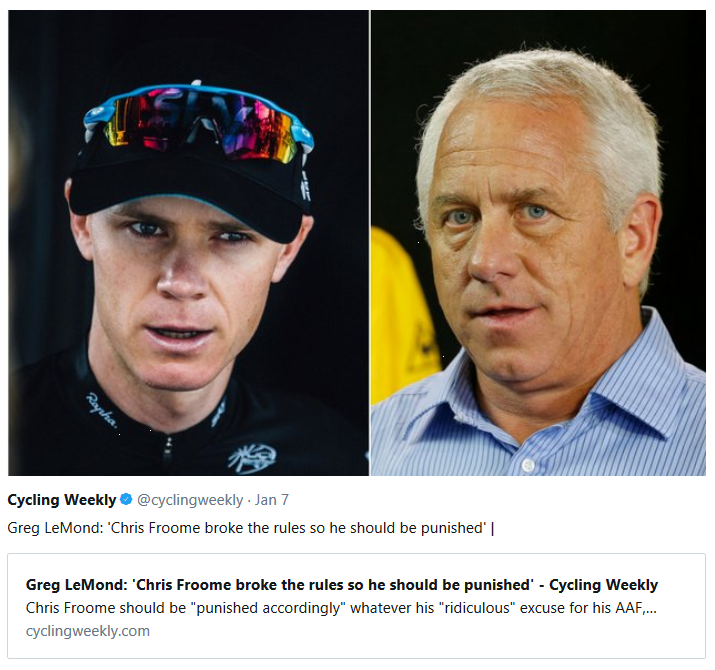 Perhaps Lemond and a few other commentators should have gained some perspective by doing what Lance Armstrong did when he describes here how to test for himself the effect of salbutamol he borrowed his fiances inhaler,
'I take three puffs, I go for my bike ride, and I wasn't trying to go up a big mountain or trying win a stage or any bike race, but I was just cruising around, and for the record I didn't feel anything rather than maybe a little fidgety.'
And that's coming from a man who admittedly knows a thing or two about actual doping.
Whether or not salbutamol has any performancr enjamcing effect is lost on those for whom rules reign supreme, and any notion that there might be any explanation beyond a cynical attempt at gaining an advantage has been lost in the hail of vitriol, perhaps conveniently if your motive attacking Froome and Team Sky has nothing to do with fairness.
The irony is that this fundamentlist approach to rules breaking is that according to the UCI's own rules nobody outside Team Sky should even yet be aware of either the AAF itself or the steps Froome and his medical staff might be undertaking to to try to show how the reading of twice the permitted level of salbutamol in his urine sample could have occurred other than by deliberate overdosing.
Is this really about doping?
Cycling has been on probation for years. The slight mistep is regarded by the sports fans and lay-public alike as evidence of an ingrained corruption of morals. Of course Sky itself has long been a target for suspicion. The Bradley Wiggins saga over a mysterious jiffy bag fizzled leaving those with Sky in the sights with a feeling of frustrAtion. Froome's AAf has simply given the team's critics a second bite of rather juicy cherry.
In an article in The Times Greg Lemond stated "I don't believe in Dave Brailsford. He's secretive, he skirts around questions, and from what I read and hear, the team is not as scientific and as knowledgeable as they claim to be".
Press coverage has admittedly tailed off a bit, pushed aside by the start of the new season and a lack of hard information. The press is probably feeling a bit hard done by, and any news, true or fake is pounced on, such as the recent claim in the Italian newspaper Corriere della Sera that he was willing to plea-bargain and possibly accept a ban.
Froome himself has been a master of discretion, limiting much of his public communciation to posting pictures of his warm weather training in South Africa, and expressing gratitude to fans for their support. It has been nigh on impossible to gauge the man's mood, but even someone who gives Bjorn Borg a run for his money in the coolness stakes must be feeling the pressure.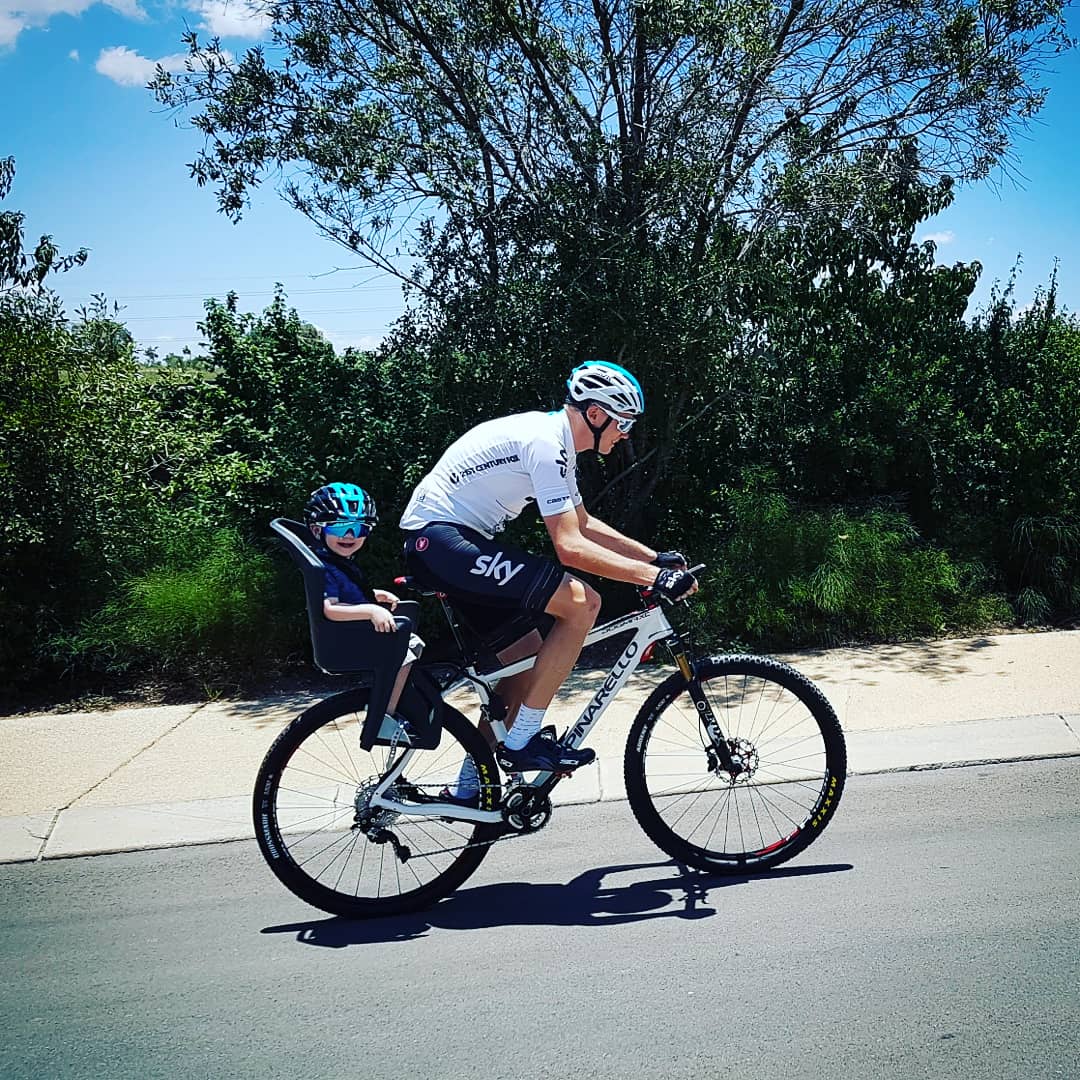 Froome though immediately took to twitter to refute the Corriere della Sera's claims, but it made for fevered reading for a couple of days.
The lack of news hasn't stopped a steady drip drip of opinion pieces calling for Froome to do the decent thing - namely self-ban.
If Froome has been flying low over the hedgerows, team boss Dave Brailsford has been a little less reticent and no doubt has been frustrated by press coverage that has been at times dismayingly lacking in objectivity.
"He's done nothing wrong," Brailsford told reporters at the recent Oro y Paz stage race in Colombia. "It's a difficult situation. We have rules from the UCI, WADA, and it's my job to look after our team and the individual, but think about the sport in general. I do believe that he's innocent, though."
Despite being well ware of the rules covering the process, several riders and team managers have called for Froome to effectively go into self-impsed confinement, among them Jonathan Vaughers, Vicenzo Nibali, runner-up to Froome at 2017 La Vuelta and Romain Bardet, who took third spot at the 2017 Tour de France, and who recently excused himself from a confrontation with Froome at the Ruta del Sol, citing injury.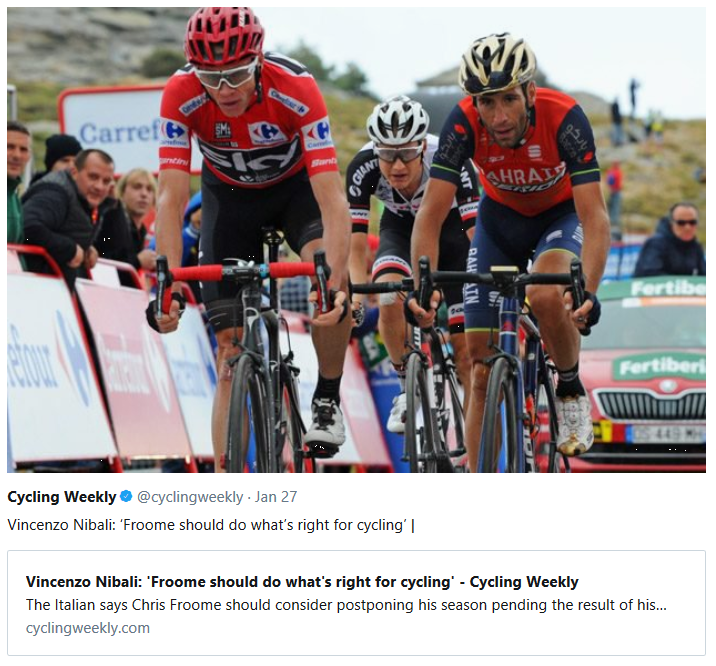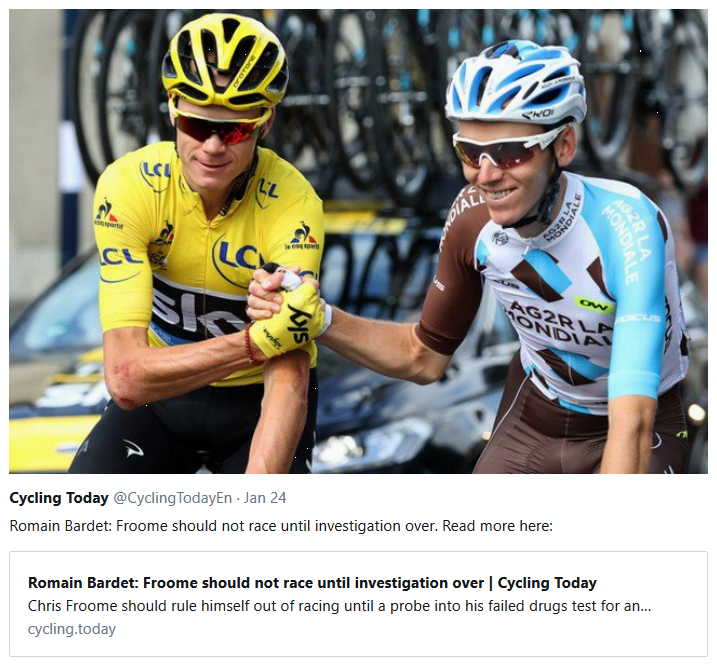 Others like Sylvain Chavanel have refused to be drawn into the debate stating in a tweet, "It's the UCI decide for Froome"
While it is hard to take Nibali's and Bardet's remarks as entirely without motive, they do reflect a widespread attitude to the process. Froome has seemingly landed on a Go To Jail square and his critics are bewildered why he might not be acquiesing to the demands of what amounts to a kangaroo court of public opinion.
It's a courtroom reeking with double standards. The same people who are calling for Froome to be punished immediately, preferably by falling on his own sword, for breaking one set of rules are all too happy to bypass another set of rules to see it done.
One can only speculate at the reasons behind the unsympathetic and uncompromising attitude of his critics. It could be anything from an anti-Rupert Murdoch sentiment, even if it is highly doubtful Murdoch has anything to do with therunnignof team Sky, it was after all the Guardian that co-leaked it and there is no love lost between it and News International. More likely it stems from an attitude towards Brailsford's 'margin gains' approach to the sport, as summed up by a former Sky team doctor, Fabio Bartalucci, who said in a article on CyclingNews this week,
"Dave came into the sport banging his chest, with his arrogance clear to see even now. It's always a mistake to publicly say 'We're different to everyone else, we don't do what they do.' When you then make a mistake, all your rivals come after you and nobody gives you a hand. That's what's happened to Dave Brailsford and Team Sky now."
This might expain but doesn't excuse the attitude of Froome's and Sky's critics. There might yet not be a resonable explanation but insisting on due process is neither unreasonable nor unquestioning support for Froome. As they keep insisting - Rules are Rules.
While Froome will hope the world will concentrate on his racing for the near future, if a report published in La Gazzetta dello Sport this week is true then Froome's case could be heading to a UCI Anti-Doping Tribunal by the end of the month. Both the Daily Mail and The Times report Froome has appointed London-based lawyer Mike Morgan, whose list of previous clients in cycling include Lizzie Deignan, Sergio Henao, Alberto Contador and Johan Bruyneel. it can only get more interesting.
Background to the AAF revelations (orignally published in Devemener 2017)
The finding arose from a sample taken on 7 September 2017 after stage 18 from Suances to Santo Toribio de Liébana which showed the level of the anti-asthama drug Salbutamol in Froome's urine was 2000ng/ml, twice the level permitted by sports doping agency WADA
The UCI statement is below: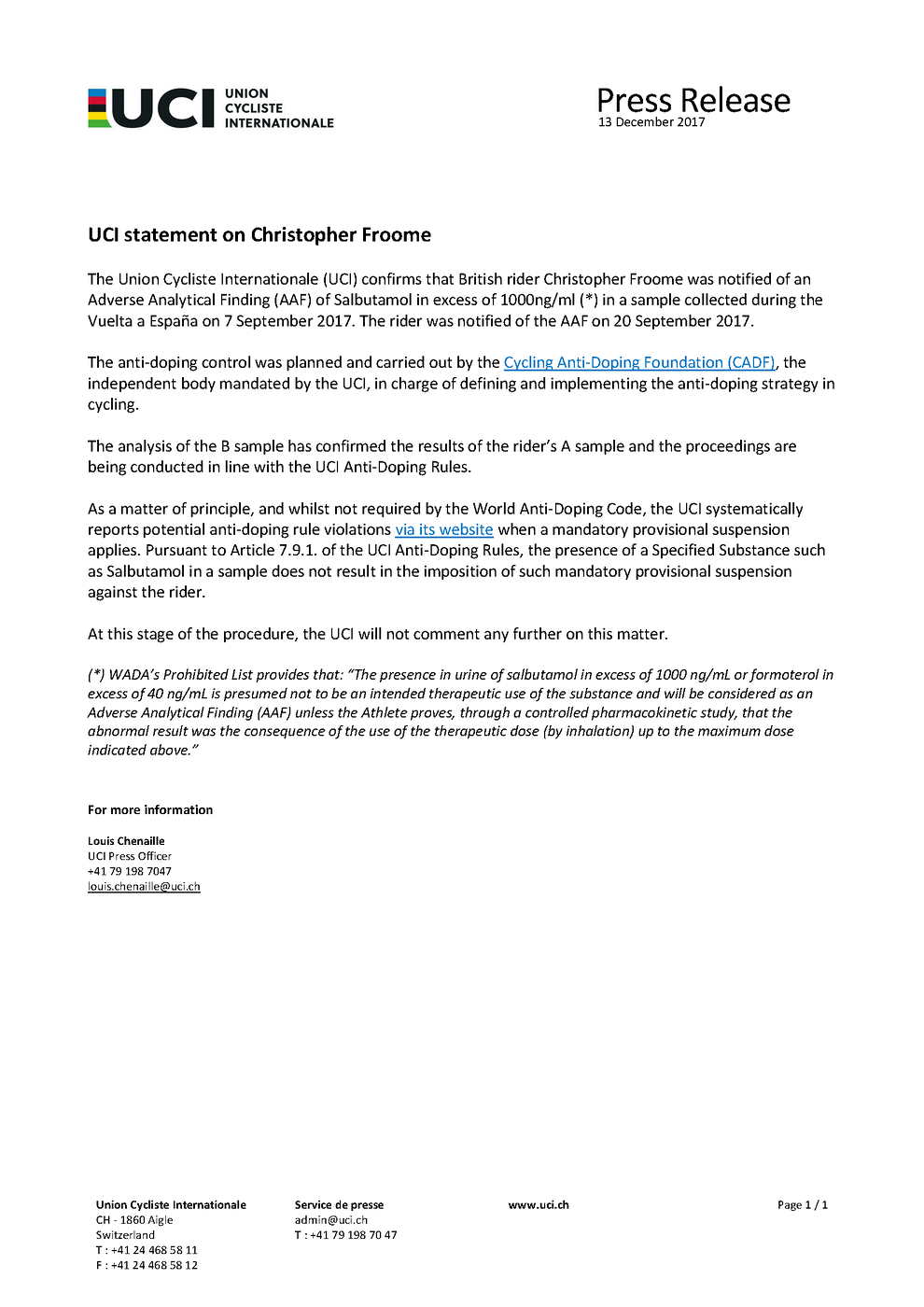 Salbutamol, which is marketed under the name Ventolin is used by millions of asthama suffers to relieve the symtoms of asthama. It is normally ingested usng an inhaler. Froome was a known sufferer and did not need what is called a TUE or Therapeutic Use Exemption in order to use Salbutamol. In order to not fall foul of WADA limits on usage he and his team however needed to enusre his usage stayed within permitted levels indicated by a urine concentration of no more than 1000ng/ml.
Just minutes before the UCI statement hit inboxes Team Sky had issued a statement of it own: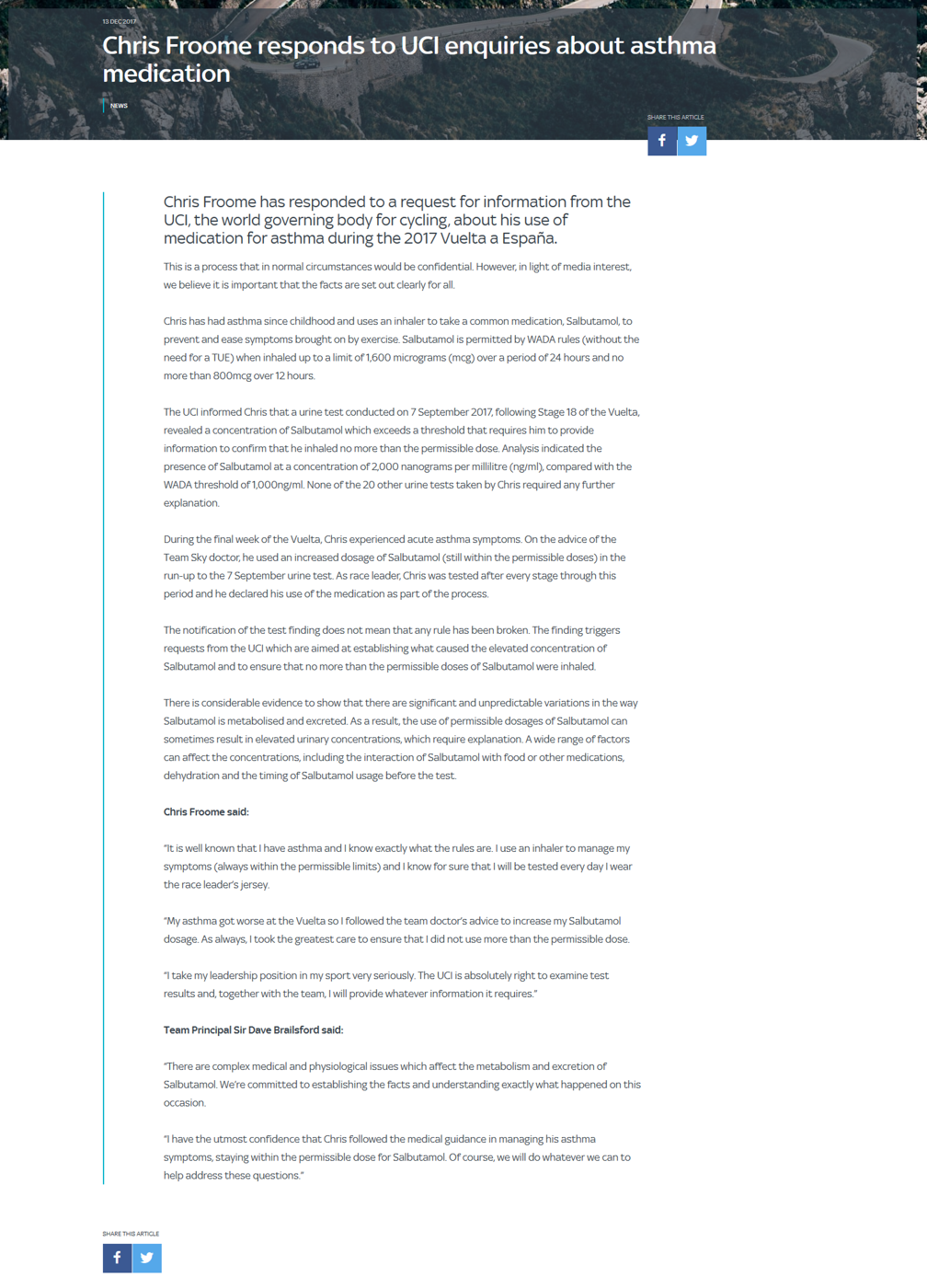 While many are surpised that Froome has not been suspended by Team Sky, as Salbutamol is not a banned substance but one with prescribed usage limits UCI rules in these circumstances do not mandate an automatic suspension. The rider is notified and allowed time to explain why the readings might have occurred legitimately.
Nornally the matter would stay private until the rider has done so or failed to do so. In Froome's case the AAF was made public following a joint investigation by The Guardian and Le Monde newspapers. The question as to how they received the information that triggered the investigation is a matter of conjecture and raises concerns over a possible leak, perhapos within the UCI or WADA.
Froome faces prospect of both a ban and losing his La Vuelta Title.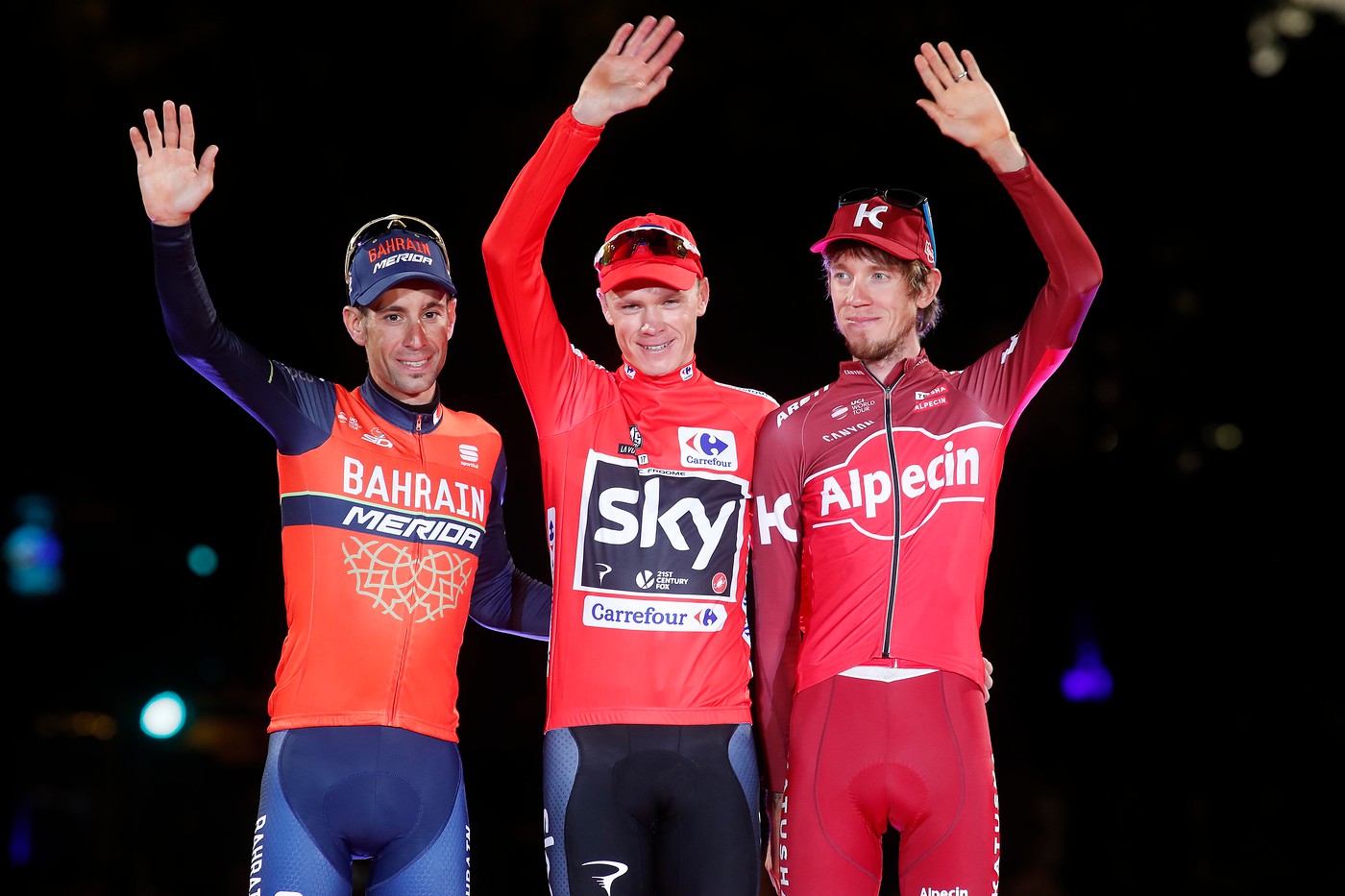 Unless Froome and his team can show that the levels of salbutamol in his urine could be achieved despite sticking to the limits on dosage the 2017 La Vuelta champion and four time Tour de France winner faces the propect of a ban and a having his La Vuelta title stripped from him. Whatever the outcome the reputaion of both Chris Froome and Team Sky is under immense pressure, especially with the spotlight of 'Jiffy-gate', the UK Anti-Doping Agency's expensive but abortive investigation into a the contents of a jiffy bag delivered to Bradley Wiggins Critérium du Dauphiné in 2011 still on full power in some sectors of the media and public.