February 7, 2016
Kirill Pozdnyakov - Member of Continental Team Synergy Baku
Let me introduce myself. My name is Kirill Pozdnyakov. I was born 27 years ago in the small city of Bryansk in Russia, but when I was 16 I moved to Belgium to realise my cycling dream. I have been there ever since. 
When I was 15 I saw my first bike race on TV, and that was my inspiration. I started to do mtb just for fun and in 2006 i decide to go to Belgium to do some kermis races. In Belgium you don't need a team to race kermises and almost anyone who has a bike license can start those races. So for me it was the perfect opportunity as I was new to this sport and didn't have any race experience.
Belgium is a cycling country, so it's not really problem to find people who offers you the opportunity to participate in kermis races and give you  accommodation for the season.
It was great experience for me. I was someone who even don't know what bike racing is and in one day i was in the cradle of cycling culture. In my first races, I didn't know what to expect but I was able to finish them,  and in August I had some podium places and was able to ride in the final for the win.
I got some offers for the next year to do bigger UCI races, to stay in Belgium over the winter and to do a full season. I didn't think long about this because this was my dream and this was my chance to try to go for it .
2007 was fantastic year for me, I won 11 races, including three UCI races, and had a lot of podium places. In 2008 rode for Foronex cycling team, a U23 team with a very good program, but my first year U23 was less successful. I had some problems with my visa and it took me nearly years to fix this issue.
Since 2009 I have been able to focus again 100% on cycling and things kept on improving. I was able to win some small races every year but it wasn't until 2011 that I could find a team with a better race program.
In 2012 I had a good season, winning a stage race in France, the Tour of Cote Dor and finishing 5th in Fleche Ardennen, as well as bringing in a few podium places in inter club races and three small victories.
For 2013, I signed my first pro contract with the Synergy Baku Cycling Project. It had been a long journey with a lot of up and downs but I finally made it. I had very good year with Baku, where, I could win five races and be part of a team success. In addition, it was more than a team for me, it became like a family.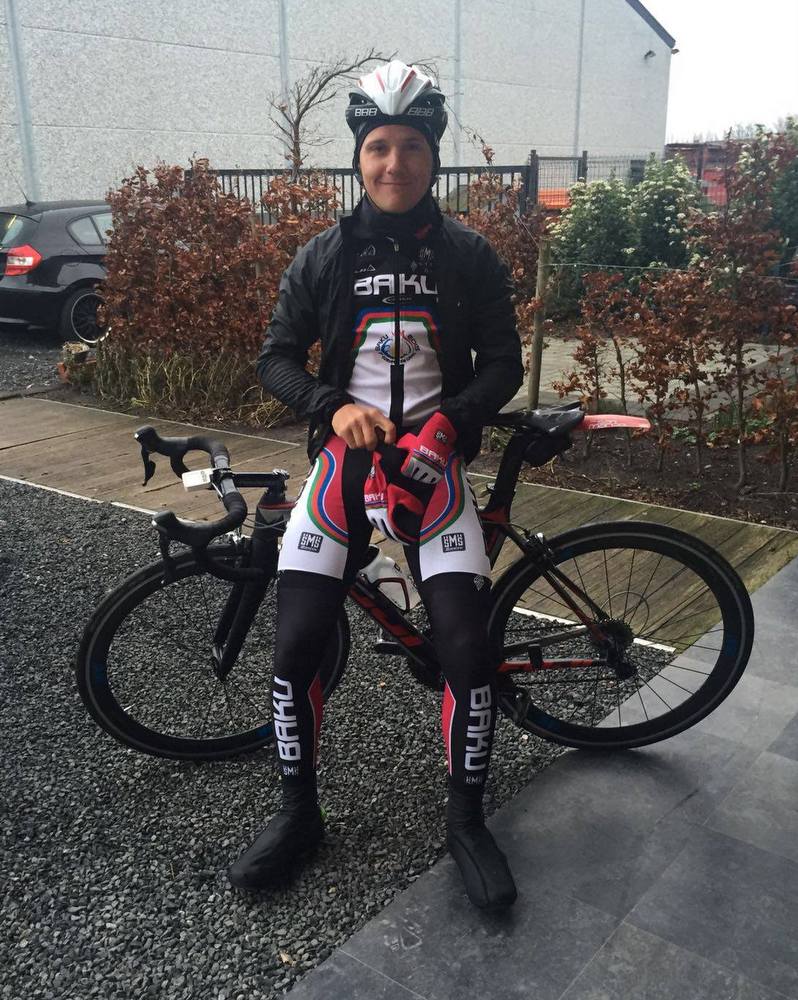 With Baku I experienced racing all over the world, with races in China, Malaysia, and Taiwan. It took me to places where I never imagined I would be, like the Tour of Qinghai Lake. I really enjoyed my time with this team!
For the last 2 years I raced for Pro continental team Rusvelo. I am   thankful to the sponsors of Rusvelo for giving me this opportunity, but for me it was very different mentality and experience, I can only say I didn't integrate in this team.
In 2016 I will be riding for Synergy Baku again and really looking froward to it.  Can't wait to start racing!
In this blog I hope to let you all get to know me and to let you know what the life of a professional rider at the Conti level is like.