2012 European Championships - Goes: Junior-Men RR
Austria's Alexander Wachter is the new European Champion Junior Men. The multi-talented Wachter was the best in the fieldsprint over Turgis and Ballerini. Photos!
The Tiroler Alexander Wachter (Austria) sprinted to the European title in the Junior-Men's race. After 129 km Wachter was the best of a first bunch over France's Anthony Turgis and Italian Davide Ballerini. Ballerini is not related to former pro rider and national team selector Franco Ballerini. Franco sadly passed away in February 2010 in a rally accident.

Alexander Wachter sprints to the European title in Goes. Photo © 2012 Bart Hazen
200 riders started in the morning in sunny weather conditions. On the small roads the large field caused lots of crashes. During the race the pace was fast and we didn't get much breakaways. Dutch Ricardo van Dongen was involved in one of the few breaks but were caught a few kilometers later.

Turgis and Ballerini finished in second and third. Photo © 2012 Bart Hazen
In the last lap the sprinters teams controlled the race and it ended up in a sprint. Wachter won the sprint with more than one bike length. Wachter is a multi-talent in Austria. This year he won 5 national titles; road, time trial, mountainbike and on the track.

One of the few breaks during the race. Photo © 2012 Bart Hazen
Result
1 WACHTER, Alexander Austria 2:59:22
2 TURGIS, Anthony France +0:01
3 BALLERINI, Davide Italy
4 MOHORIC, Matej Slovenia
5 KATRASNIK, GaSper Slovenia
6 ROIA, Oliviero Italy

The riders had to do six laps of 21,5 km. Photo © 2012 Bart Hazen

7 FAGLUM KARLSSON, Marcus Sweden
8 STRAKHOV, Dmitry Russian Federation
9 HERKLOTZ, Silvio Germany
10 JANSEN, Amund G Norway
11 MINALI, Riccardo Italy
12 BAUHAUS, Phil Germany

The riace had some wind, dykes, polder and cobbles. Everything was in it just no climbs. Photo © 2012 Bart Hazen

13 MANZIN, Lorenzo France
14 CONSONNI, Simone Italy
15 NISU, Oskar Estonia
16 DELTOMBE, Kevin Belgium
17 VERSTREPEN, Dries Belgium
18 FARAZIJN, Maxime Belgium

Alongside the sea. Photo © 2012 Bart Hazen

19 ACKERMANN, Pascal Germany
20 GILIAZOV, Ruslan Russian Federation
21 NOMMELA, Aksel Estonia
22 DERLER, Tobias Austria
23 ALLEGAERT, Piet Belgium
24 BOHLI, Tom Switzerland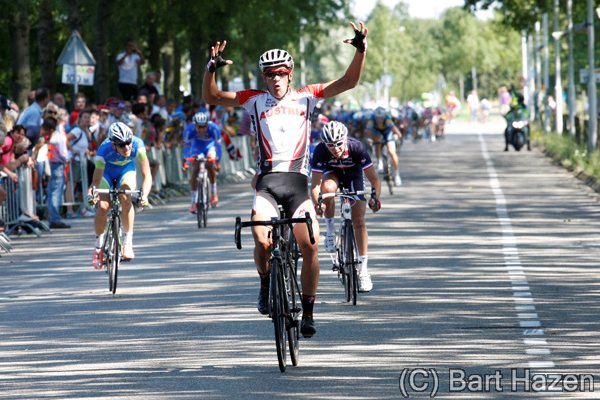 Alexander Wachter. Photo © 2012 Bart Hazen

25 BASKA, Erik Slovakia
26 SPENGLER, Lukas Switzerland
27 BORISAVLJEVIC, Milos Serbia
28 JANEVICS, Peteris Latvia
29 TORRES CUENCA, Cristian Spain
30 FARANTAKIS, Stylianos Greece
Full result

The podium. Photo © 2012 Bart Hazen

Celebrating our tenth year!
Help Support the Daily Peloton