Interview: Gabby Day
Interview with British cyclo cross star Gabby Day. Day is having a really good season thus far with several top 5 placings including two podium spots.

Gabby Day from Lincoln, Lincolnshire (Great Britain) is having a really good season with several top 5 placings including two podiums in Gloucester and Nommay. The rider of the Renner Custom CX Team is aiming for the win in the National Championships and having a good ride at the World Championships in Koksijde, Belgium. An interview:

Can you introduce yourself?
I am Gabby Day, I race cyclo cross and mountain bike. I ride for RENNER Custom CX Team in the winter and Scott MTB team in the summer.
How did you get involved with cycling? And is cycling (or sports in general) a family business?
My family have always been involved in sport. My granddad used to be a competitive cyclist and my mum was a top road runner. So I guess I was always going to be involved in sport . It comes fairly naturally to me and I am a competitive person. Previous to cycling I was a track, road and cross country runner competiting at quite a high level. I tried cycling out when I was 15 and took to it very quickly. I found it fun and exciting and in my first race I beat quite a few boys; which is always a good thing!! I tried to continue to compete in both disciplines but I found I could not do them both at the same high level. So I choose cycling…and here I am now!!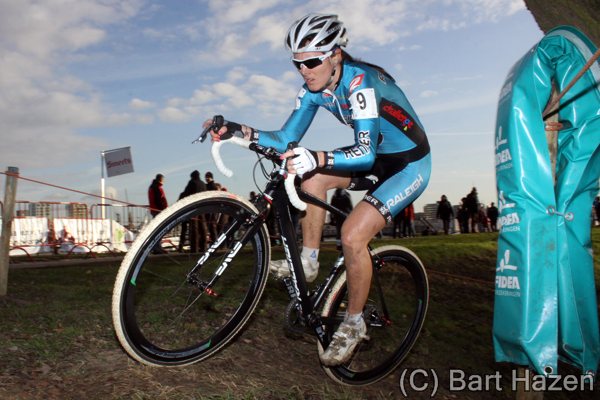 On her way to a fifth place in the Scheldecross (Antwerp). Photo © 2011 Bart Hazen
How do you look back at the first part of this CX season with some good results and even podium rides?
I really enjoyed how I started my cyclo cross season off. I went to the US for a month at the beginning of my season. I was based in the East coast and raced 9 races. It was a great experience and a refreshing change to my usual start to the season. I met some great people and it was really good to race on different courses and against different people. I also finished on the podium twice while I was there so that was very cool!!
What will be your goals for the remainder of the CX season?
So far my season has been going really well. I started pretty steady and now things are picking up and racing has been going really good. When I was in America I was not fully 'on it' but it was never my plan to come into the season hard…now is the time that I want to be good…really good! I have a heavy December block of racing before the Nationals which is a big aim…I want to WIN! I am also looking forward to the Worlds in Koksijde…that seems to be a good course for me.
You have done a lot of cross races in the USA in September. Can you share us your experience?
It was a really great experience. I loved racing in the US and I definitely will return! Everyone was friendly and welcoming. There is a great atmosphere at races too. And the fact that there is more equality between men and women is a really good thing. It was also cool to race on new and different courses.

The National Championships are a big aim for Gabby. Photo © 2011 Bart Hazen
How is that different with Europe?
The european scene is way more stressful. I felt alot more relaxed in the US. Maybe that is because it was something new for me. The courses in europe are generally physically harder. I find it hard to really explain the differences but they are just different.
What is your favorite cross race in both USA and Europe?
When I was in the US my favourite race was the Gloucester GP. It was a big double UCI race weekend with a great atmosphere. It was a cool course. And I podiumed there too! Also I loved the Midnight ride race…a night race. It was so much fun and it was my first ever night race. In Europe my favourite course is probably Loenhout, its a fun course whether its muddy, icy or dry.
What are your strengths as a rider and what are your weakest points which need to be improved in your opinion?
In my opinion my strength is my technical skills and my running ability. I like courses that are technical. I would say I am quite an all rounder I can handle most conditions. I have been working on building up my power and strength for this season that was something that I feel I lacked in previous years. I feel that this has definitely improved.

Gabby competed in some cross races in the United States in September saying it was a great experience. Photo © 2011 Bart Hazen
During the cross season your are living in Oudenaarde in the house of the family Germer, the owner of your sponsor The Chainstay as well. Lots of crossers are living in Oudenaarde or close too. An explanation why "Oudenaarde" is the place to be?
Oudenaarde is a great place to be based, it has great training roads. You have the Vlaamse Ardennes which are great for hilly rides. There are also the famous climbs nearby if you wish to test yourself! And of course the Koppenberg & Asper Gavere cross races are local to us. And it is cool to have other cyclists to go training with. s
You had a very good ride two weeks ago at the Koksijde World Cup (10th). Did it go as you wanted? or you think you can improve to do even better at the Worlds on the same course in the end of January?
I was very happy with how Koksijde world cup went. I was unsure how it would go as on saturday's pre ride I wasnt particularly riding very great. I seemed to make every mistake possible. But it all came together perfectly on race day. I was positive and confident in the race and ran as fast as I could and as fast and smooth as I could ride. It worked out great. A top 10 world cup result makes me happy. I just need to continue to do this! I am excited for worlds I think I can achieve a great result, the course suits me well.
How would you describe the course in Koksijde to the readers who never have been there?
One word…SAND
Koksijde is so very hard. There is no course quite like it. It is a full on sand race in the Koksijde sand dunes. The race hurts you so much. It is so physically and mentally demanding. A proper tough cyclo cross race.

Gabby is delighted with how the season goes so far. Photo © 2011 Bart Hazen
You are the current Welsh MTB Champion. Do you have any ambitions to get in the Olympic MTB team for London?
I sure am! And I have a nice Welsh champions jersey too…so pretty special! To ride in the olympics is not something I will achieve. Great Britain only has one spot for the olympics. I am new to mountain biking and I use it as training for my cyclo cross season.
What will be your goals on long term as a person and as a cyclist?
To be the BEST that I can be on the bike and off.

Who are your role models?
I consider my mum to be a big role model to me, she is amazing and is such a wonderful person. She has achieved alot in her sport. I am proud of her.
Anyone that is at the top of their game in their sport is pretty inspirational; I know how hard it is to be the best and achieve it takes total dedication.
Do you have any rituals (maybe unusual rituals) you have to do each day or before a race?
I don't really have any rituals that I do. Although I always paint my nails a pretty colour ready for race day! I like to do a harder ride the day before I race as I respond well to hurting my legs a little . I always warm up listening to music…it gets me in the zone and ready for action!

During the season Gabby lives like lots of others in Oudenaarde (Belgium). Photo © 2011 Bart Hazen
What is Gabby doing when not riding a bike?
When I am not riding my bike I will be relaxing and recovering from training. I like to go for coffee or hot chocolate with my friends.
What do we have to know from you what most people don't know?
I am a proper girly girl. I am tough on the bike and aggressive when I race but aside from that I love to be a real girl. I paint my nails pretty colours and watch Vampire Diaries!!
I am also a qualified Sports massage therapist which is something I do when I am back in the UK…so if anyone out there wants a sports massage just send me a message my rates are pretty good!!
Final question. What is your motto?
Do something that makes you happy everyday…and be the best you can be. Make the most of your life…No regrets.

Website
Twitter
Facebook
Gabby Day Cyclesport

Celebrating our tenth year!
Help Support the Daily Peloton