Interview: Emma Trott
Interview with 21 year old Emma Trott. She will be riding for the Dutch UCI team Dolmans-Boels next season and hopes to get selected for both the Olympic Games and World Championships.

Emma Trott is a 21 year old from Cheshunt (Great Britain), just a few miles north of London. Next season Trott will be riding for the Dutch Dolmans-Boels cycling team where she will be the only non Dutch native speaking rider. Trott talks about her 2011 season, her time with Nederland Bloeit, her first impressions with her new team, the difficulties of learning Dutch and much more. The interview:

You didnít had your best season with Nederland Bloeit due to injuries and other factors. How do you want to subscribe the 2011 season?
2011 was by no stretch of the imagination my best year. I would possibly describe it as my worst yet. It was not an easy year for me, but what does not kill you makes you stronger. Signing with Nederland Bloeit, with stars like Marianne (Vos) and Annemiek (Van Vleuten), was a dream. I was being given an opportunity to learn from these people and ride as part of one of the biggest teams around.

But, the season didnít go as I had imagined. It didnít start too bad but thatís about as good as it got. I got sick at training camp after Het Nieuwsblad and that seemed to knock me back a fair amount. It was not good but even after missing a lot of the riding I still learnt a lot about me and even more about life as a professional cyclist. Things just didnít get any better! I went through the year thinking it canít get any worse it can only get better. But, the longer it went on I started to wonder when the good times where going to start. Sadly for me that never happened, so I am just relieved the season is over. I can draw a line under it and move on to next year, motivated to get back to riding how I know I can.

You suffered with a leg injury not knowing what the injury was all about for a long time. Can you describe whatís going on in your mind during that period? As you were not being able to ride a bike normally.
This for me was possibly one of the toughest things I have ever gone through. I was living in Belgium and although I had done so for the past few years I had never experienced such a low. This made me feel lonely and isolated, even though I was living with great people. There were a lot of things going through my mind at the time and not many people really know what was going on. I was unable to ride my bike how I wanted or how I knew I could, which when you have only ever known your legs to go round in circles it pretty hard to take.

I had gone from beating Marianne Vos, in a time trial the previous year, to being unable to really ride my bike. Something was wrong but it was proving difficult to work out what the problem was. Mentally it was tough, and if I am honest maybe even on the verge of quitting altogether. Thatís pretty hard to admit, about a sport that I really love but it was the truth. I needed someone to find the problem, solve the problem and get me back on my bike again. I needed to see a light at the end of the tunnel because at the time everything was clouded. I could not set myself any goals because I didnít know how long it was going to take. So when you have no goals this comes with no motivation. I must have been a nightmare to live with!

As soon as I found the problem it was like a ton of bricks lifted off my shoulders. It was a great relief but it also meant that I could focus on the only thing left of the season, time trial nationals. It was just nice to have a goal again, feel like a cyclist and be riding. This was the time when I saw the light at the end of the tunnel and knew I was going to get out the other end.

In action during the Smithfield Nocturne in London. Giving 100% in her home town criterium after doing a local time trial in the morning. Photo © 2011 Bart Hazen
You had lots of bad luck the past two season starting with the Belgium training accident in April 2010 in which a few riders of the British team was taken down and out of competition for a while. How did you deal with that? And did you ever thought to just give up?
Although things have been tough, you canít dwell on the past. Things happen, but these things happen for a reason. You have to move on and although it was a difficult time for me the things I have learnt will ultimately make me a better bike rider.

It was hard and I maybe didnít deal with things in the best way but what I learnt was invaluable. I have been through it once now and if I ever go through it again hopefully I deal with it better.

The best thing I learnt during the time was that talking is golden. There is only so much you can bottle up inside of you. The more stuff you have inside the more likely it is that you will explode, which in sporting terms means performing well below par. The more you talk the better you feel but people also then know where they stand with you. If you never tell anyone what is going on inside your head they wonít know whatís happening, people canít read minds!
Riding for Nederland Bloeit was not the best choice hindsight. But I suppose riding in a team with Marianne Vos and Annemiek van Vleuten had some positive things as well?
Hindsight is a wonderful thing but I think it would be unfair to say that maybe it was not the best choice for me to ride with Nederland Bloeit this year. Bad years can happen to any athlete at any time and for me it happened to be while riding for such a top team. This time last year I was thrilled to be joining this team. Naturally I hoped things would go better than they did but they didnít. I canít change what happened and I canít turn the clock back and change the team I was riding with. That was my decision and I stand by it.

What I learn from everyone this year, riders and staff alike, I will take with me. I would be really stupid to forget about what happened this year because in years to come I might need to use some of it. Okay, I wanted to do more learning on the bike but ultimately that didnít materialize and I ended up doing more learning off of it.

You are going to ride next year with the Dutch Dolmans-Boels team. What do you expect for your first season with them?
I am very excited to be joining Dolmans-Boels. Itís a team with a lot of ambition and I am happy to be part of it.

Personally for me next year I expect a season with a lot less stress than this year! No injuries would be really nice but ultimately to work towards the goals myself, my coach and Thijs (Rondhuis) have set. I expect a lot of myself so will be doing everything within my control to make sure that I am ready for the start of the year but also for the targets that I hope to achieve.

As a team the goal is the team time trial championships in Holland. Theyíre being held in Limburg which is where the team is based so itís a home world championships! Itís also good for me because I love anything that involves me getting on a time trial bike. I love riding time trials and really like the whole team element of it. But for us to be able to ride in the area where the team is based will also be pretty cool. I would be expecting a lot of home support!

During the Omloop het Nieuwsblad. Battling against the wind, rain and cold in typical Belgium spring weather. Photo © 2011 Bart Hazen
You are going to ride in a team with one of your best friends Martine Bras. Exciting and weird in one way I guess?
Martine BrasÖÖ.. She is great! I would say I am really excited to be riding with her.

You can learn a lot from a rider like Martine but the thing that I really like about her is she is always willing to help. You can learn from so many riders but to have someone who actually wants to help is pretty rare.

I lived with her during 2009 and to be honest to start with I was pretty scared of her! I didnít want to say or do the wrong thingís, I think getting off on the right foot is a good idea so for me it was like, Emma, think what you say first! I have a terrible habit of saying something then thinking, oh well hopefully they take that the right way!

Iím really looking forward to being able to ride with her in a team. I have a lot of trust and confidence in her. I have already ridden with her, when she rode Holland Hills Classic with Moving Ladies. That day I learnt the most I have ever learnt in a bike race. It really helped having Martine there, giving me little hints, telling me to do things. It was great and I ended up having a good race.

I would train with her and her boyfriend, Stijn, once a week in the Ardennes. That helped me a lot, I got a decent ride but with riders better than I was. I did once get on the wrong side of her though but thatís best leftÖ..! (Nothing bad just my incompetence at getting things done!)

You now had several meetings with your new team already. Riding on a tandem, doing some mountain bike sessions and much more to get to know everyone a little better. How would you describe the first impressions (and atmosphere) with them?
I have been really lucky so far and we have had some good meetings as a team. This, for me as a new rider, is really important. Itís the start of getting to know all the girls but also the mechanics, bus driver, etc. These are the people you are going to be working with so itís important you get to know them quickly. So far I have been having a lot of fun and am really enjoying myself.

My first impressions are; what a great bunch of people. Everyone is ultimately working towards the same goal but itís always done with a smile, which is something I really like. When I can honestly say that during every minute of my time spent with the girls there has been very few times without me having a smile on my face shows the atmosphere within the team. The atmosphere is fantastic and as long as it stays like that throughout the year it can only lead to good things.
You are following Dutch lessons as well being the only non Dutch speaking rider on the team. How is your Dutch at the moment? And is the language difficult to learn in your opinion.
I am really trying hard when it comes to learning Dutch. Considering throughout my time racing I have spent four years with Dutch teams and lived in a Dutch speaking country it is a bit poor that I donít speak the language a little better.

But, this is all going to change and I am making a real effort in trying to learn. All of the team meetings are done in Dutch, which although I wonít get all of it I can understand some of it. I feel it is a good way. I have to really concentrate so the time I go to bed I am knackered but hopefully it gets better.

The language is not the easiest to learn but I feel I am slowly getting there. Itís something you just have to stick to because as soon as you give up of course you are not going to learn. The girls on the team laugh at me when I speak it. I joke with them that if they are going to laugh then I will not speak it. I asked why they laugh and apparently itís because they are surprised that I either know what they are talking about or I know how to respond in Dutch!

So itís coming and people are helping where they can so all is good!

Total focus for a time trial, her specialty. Photo © 2011 Bart Hazen
How do you prepare for a new season?
This year as well as having a new team I am also working with a new coach. I like the way he thinks and the training methods he uses, so I feel it is a good relationship. I wanted to start a clean page for everything so naturally this also changed.
Preparing for a new season, especially after last year, starts with a good break. Let your mind and body recover from the season and have some fun. With my general lack of racing throughout the year I took an early break and didnít have as long as I would usually take. I had a couple of weeks but by that point I really wanted to get back on my bike and get going.
For me this year, the first few weeks a lot of my training was done off the bike. Just trying to gain general fitness, amazing how rubbish you feel after just a few weeks of doing nothing.
But, generally itís just about working on endurance, little things like imbalances and a lot of core stability. You get a lot of time during the winter to work on any problems and your core so this takes a focus during this time of year.

Your younger sister Laura is a World Class cyclist as well being a World- and European Track Champion Team Pursuit for example. How did the Trottís get into cycling?
The Trottís way into cycling was defiantly not the conventional way! Most of the riders from main land Europe would get into it because of a family member or because they were a cycling family. The UK has a lot of ďI wanted to get out of a Math lessonĒ stories, the days when British Cycling went into schools to find the next best thing. For myself and Laura this wasnít the case. We always did sport, five times a week, anything from trampolining, swimming, golf or just cycling down the river with Dad. To put it nicely mum was ďover weightĒ and she really wanted to lose it. But, for Dad this had not been the first time that he had heard it so in a way he didnít believe her. She thought cycling would be a good idea as a bunch of her friends went down the river a couple of times a week, plus we went every weekend. Dad brought her the cheapest bike he could find, unaware how much she would ride and wear the bike out within weeks of getting it.
It slowly progressed from there, and we were eventually introduced to the local velodrome by friends who we would swim with. Myself and Laura loved it instantly but mum and dad where not so impressed by it. This was late in September so the season was coming to an end so we would have to wait until the following year. So when the track did eventually start again we pestered until we were taken down to have another go. But, it didnít stop there, we wanted to race! These happened at the weekends but dad played cricket then so we could not go. I suppose we just kept complaining that everyone else was going and not us so it was unfair. Eventually dad gave in and we started racing, well eventually dad gave up cricket too!
So thatís how we got into it. 10/11 years on and we are still going!
What can Laura learn from you and what can you learn from her?
Can Laura learn anything from me? She is already a World Champion! Maybe nutrition, that really is her downfall and itís amazing how someone can ride a bike so well living off the diet she has. When visiting her in Manchester, if you look in the fridge itís like looking at the chocolate aisle of a supermarket, and that is no exaggeration! It might come up behind and bite her in the future, she might roll down the road instead of walk but at the moment it works. If I started eating like that for sure I would not go as well as she manages to!
The thing I could learn from Laura would be her self confidence and belief that for me is one of her biggest traits. On the track she is very confident, she knows what she can do and generally does it. This is what I am working on but now I have a group of people around showing the confidence in me that they are really makes me believe. So much so that I am really looking forward to next year.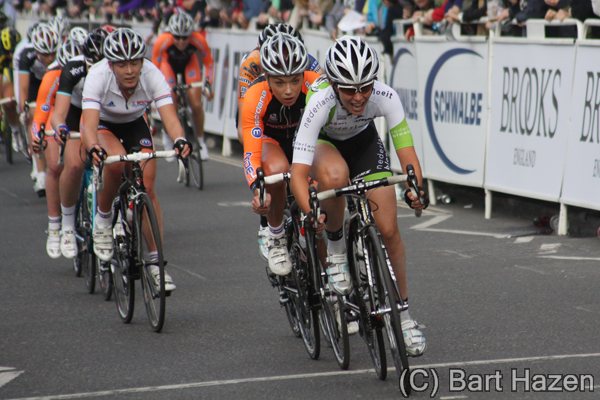 Emma is going to ride for the Dolmans-Boels Cycling Team in 2012. Photo © 2011 Bart Hazen
Recently there was a discussion/debate about a minimum wage for women cyclists. UCI president McQuaid stated that the sport donít have the level yet. Vos, Teutenberg and Bronzini took offense and supported the idea. What are your thoughts? Or what needs to be changed to get this idea started.
Women need to be treated in the same way as the men otherwise our sport is never going to grow. We need the same kind of structure as the men have, not just a minimum wages but with regards to races and contracts too. I think it is all well and good McQuaid saying we donít have the level but how are we suppose to reach this level without the backing from the UCI. It makes things very difficult.
Sponsors want exposure and although the UCI do now show 30mins of highlights of the World Cup Series thatís not really enough for sponsors to come in. If they could see the sport growing and the upward spiral sponsors would probably be easier to find. With teams like Garmin-Cervelo looking like they are coming to the end of their stay in the womenís peloton it certainly does not help the case.
Womenís cycling is now at a stage where it needs to become more professional.
Maybe every ProTour team should have to have a womenís team if they want their license for the next year. This would defiantly encourage womenís cycling to become more professional because both the men and womenís team would be using the same resources.
Then with regards to the racing it would be so easy to have more races like Tour of Flanders or Fleche Wallonne. The police, the course, everything is already in place. The one day races it would almost certainly work. It does for the two I have mentioned and having ridden both I can say the atmosphere you experience is amazing. Stage races would be a little more difficult but again it works for the women's Tour of Qatar, just starting it a few days earlier. If it can work for these races it for sure can work for many more too.
What do we have to know from you what most people donít know?
I am a massive Bruce Springsteen fan! I got into listening to him through my dad, it was on in the car when we went places and although at first I might not have taken much notice I think it stuck with me! I have been to see him live, with my dad, on many occasions. For me itís nice to have something outside of cycling that you enjoy doing. We use to get seated tickets, I was too young for the standing, but now itís standing all the way. The atmosphere is amazing, even if you have to get to the venue at 9am for a concert that starts at 8pm! The Fans have their own queuing system, to make sure those that get there early get on the rails at the front of the stage! But you know itís a real buzz! Dad and myself have seen him many times, and he is touring again next year but now we have one aim, to see him live in New Jersey, USA, that would be cool!
If you wasnít a cyclist. What would you be doing than?
Good question! I would joke and say nothing but I get pretty bored pretty damn quickly so I would have to do something. As a backup plan four years ago when I left school I applied for university. The last thing you want is for a bad crash or to find out you really do not like the life as a cyclist to have nothing to fall back on. I decided that applying would give me another option just in case. The course I decided on was Sports Therapy, Rehabilitation and Massage. I have always loved sport and I am a pretty active person, so I thought it was important to study within the sporting industry but something that would also constantly change. No patient would ever be the same so it would defiantly keep me on my toes. I might decide to do it once I have stopped cycling but by that stage I might want to do something completely different, which I wouldnít put past me!
Final question. What is your motto?
I have two but Iím only going to tell you one. ďNo SurrenderĒ became my motto during the 2009 season, my first year with Moving Ladies. For the whole first part I seemed to be the world most unluckiest rider. I was always crashing and it was really starting to get on my nerves. It was my first season in Holland and I was starting to wonder what I was doing. Before one of the races I got a text from my dad and all it said was ďNo Surrender!Ē

It is a good motto to have because I am the kind of person that will never give up. If someone says I canít I will always prove I can. But, No Surrender is a Bruce Springsteen song , my dad and myself are big fans so it just made me smile. That race I didnít crash, survived and that was the turning point. I won six races and an overall GC in the second half of the year but the motto stuck. I have it somewhere on my bike because it reminds me of that year and what can happen!

Follow Emma on:
Twitter
Facebook

Celebrating our tenth year!
Help Support the Daily Peloton