2011 UCI Road World Championships - Junior Women Road Race
Great Britain's Lucy Garner claims first gold medal for Queen & Country in mass sprint finish
Great Britain´s Lucy Garner won the first of the road races today in a Rudersdal when the race came down to a field sprint of catching Rossella Ratto of Italy and Mieke Kröger of Germany as they started the final climb to the finish. Garner took the victory from about 40 riders to claim the Gold medal and rainbow jersey of world champion.
Garner led to the line by a wheel over Belgium's Jessy Druynts and Denmark's Christina Siggaard in a close sprint. Druyts finished second, taking the silver medal and Siggaard filled out the 2011 podium in third taking bronze.

Lucy Garner Celebrates! Photo copyright 2011 Anita van Crey
Souyris Manon of France finished fourth, with Austrian miss, Christina Perchtold rounded out the top five.
Garner's winning performance delivered the first gold medal to the British team in the road race bumping their total to 5.
In what proved to be a fast pace race; attacks from the start but none succeeded. Tghe first half of the race included several crashes before the peloton settled down for the second half. Australia's gold medalist in the time trial, Jessica Allen was forced to abandon after being involved in a crash.
The peloton drove hard up the climb on Geels Bakke (Goat hill) to open the sprint with 400 meters to go with Garner winning the close sprint of the young dames.
Best placed American continental was Ingrid Drexel of Mexico who finished 16h. - the North American's: Canada's Garbrielle Pilote-Fortin finished 19th while USA's Addyson Albershardt and Alexis Ryan finished 41st and 43rd at ten seconds.
Lucy Garner of Great Britain Surprised...
"I didn't expect this. The team really worked, went in early breaks while I just stayed sheltered. On the last lap, with the two riders (Rossella Ratto of Italy and Mieke Kröger of Germany) in front, I still tried to go with 5 km to go, but I did not manage. I was quite surprised that we caught the two in front as the chase was not very organized, but as soon as we had them in sight I knew then that we would catch them, and we did at the bottom of the finishing hill."
"In the sprint a few riders went early but I just sat in because I knew that if I went early I would blow. I think that I timed it just right, went with 150 meters to go and then I just kept my head down all the way to the line. Even if you can see the finish from the bottom, it is still is a long finish and you have to be careful not to go too early. There are quite a few uphill finishes in UK races, so I am quite used to this. I have also been training for this, as I had heard that it was an uphill finish."
Belgium's Jessy Druyts Silver Medal...
"It was a race with a lot of attacks but no one really getting away. When Ratto went I thought that the race was over, but then with less than one kilometer to go I realized that it was going to be a sprint so I just tried to be in front."

Christina Sigaard Denmark, Bronze Medal
It was a typical Junior woman race, sometimes very fast, other times very slow. We had Sofie Valin to do the hard work, and Fie to protect me in the sprint. I thought it would be a shorter sprint, but it was already going in the corner before the hill! It is and unbelievable course, great fans, I could not even feel my legs on the hill with all the people there!

2011 Podium: Belgium's Jessy Druyts, Lucy Garner of Great Britain and Christina Siggaard of Denmark Photo copyright 2011 Anita van Crey
2011 UCI Road World Championships
Junior Women Road Race Results
70 km (5 laps) - 1:46.17
1 24 Garner Lucy Great Britain - 1:46:17 Gold
2 10 Druyts Jessy Belgium - 0:00 Silver
3 50 Siggaard Christina Denmark - 0:00 Bronze
4 4 Souyris Manon France - 0:00
5 69 Perchtold Christina Austria - 0:00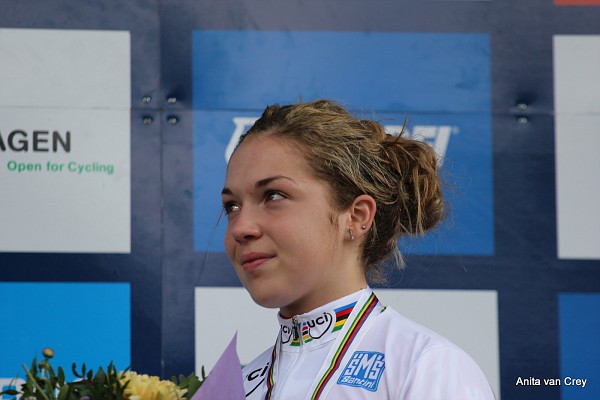 Lucy Garner listens to the British national anthem from the podium Photo copyright 2011 Anita van Crey
6 18 Gutierrez Ruiz Sheyla Spain - 0:00
7 28 Küllmer Lisa Germany - 0:00
8 5 Bartelloni Beatrice Italy - 0:00
9 32 Markus Kelly The Netherlands - 0:00
10 52 Latozaite Silvija Lithuania - 0:00
11 8 Ratto Rossella Italy - 0:00
12 41 Kashirina Svetlana Russia - 0:00
13 21 Usabiaga Balerdi Irene Spain - 0:00
14 34 Kirschenstein Katarzyna Poland - 0:00
15 12 Van Severen Céline Belgium - 0:00
Full Junior Women's Road Race Results & Photos
Support the Daily Peloton


Celebrating our 11th year!