Scott Moninger Retires From Racing
Scott Moninger hangs up his wheels and ends his winning pro career. 16 years, six teams and a record of 275 victories the most of any current professional rider in the North American peloton.

Scott Moninger, 2005 NRC Champion, most wins of any rider in the USA Circuit. Photo c. Vaughn Trevi
Scott Moninger Retires From Racing
Winningest Active U.S. Racer Totaled 275 Victories
Boulder, Colo. — Scott Moninger, one of the most prolific professional cyclists in the history of bicycle racing in the United States, has announced his retirement.

Scott Moninger with his BMC escort at Redlands Classic.
Photo c. Mark Adkison Phd.
Moninger, 40, closed out his 17-year pro career Sunday in St. Louis at the Tour of Missouri, where he finished 24th overall in the six-day, six-stage race. In his final season, the native of Atlanta, Ga., won 12 races to raise his career victory total to 275.

Moninger and England approach the finish as Scott celebrates.
Photo c. Mark Adkison Phd.
"At this point I would have to say that I am content with what I have accomplished during my career," Moninger said. "I don't know if any athlete is ever completely, 100 percent satisfied when looking back over their own performances. But I do feel that my appetite for competition and victories has been fulfilled. This was not an overnight decision for me, but one that I came to after much thought and consideration."
The Boulder, Colo., resident was a four-time winner of the Cascade Cycling Classic and the Nevada City Classic, a two-time winner of the Tour of the Gila, the Redlands Bicycle Classic, and the Tour De Toona. He was the individual champion of the National Race Calendar series on two occasions, 1992 and 2005.

Redlands 2007 Photo c. Mark Adkison P.H.D.
Moninger raced for six different professional teams during his pro career: Coors Light (1991-94), Chevrolet-Los Angeles Sheriff (1995-96), Navigators Insurance (1997-98), Mercury (1999-2002), Health Net presented by Maxxis (2004-06) and BMC (2007). He began competitive racing at the age of 15.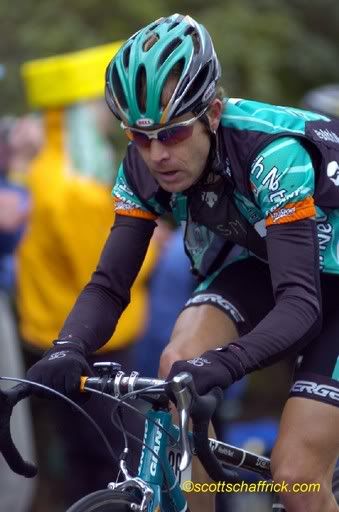 Scott on Brass Town Bald 2005 Photo c. Scott Schafrick
"Cycling has been my life, my love, and my passion for nearly three decades and I can honestly say that it has been a great ride for nearly every minute of every mile," he said. "Cycling has a unique way of giving back exactly what you put into it. I think that is what has kept me addicted to this sport for so many years … knowing that the harder I worked, the greater the rewards would be."
Moninger enjoyed one of his most prolific seasons in 2006 when he won 16 races, including the Tour of Utah and the Mount Evans Hill Climb (for the sixth time). He represented the United States at the World Professional Road Race in Italy in 1999 and was a member of the U.S. World Amateur Road Race team at the Worlds in Japan in 1990.

Scott, leader of the San Dimas Stage Race 2005 Photo c. Vaughn Trevi
Scott's final victory came on Aug. 18 in Dillon, Colo., when he took a field-sprint win in the Dillon criterium on a technical course in the downtown streets of the high altitude ski town.
Best wishes to Scott in the future from the Daily Peloton staff and readers. We expect Scott will likely be as successful in the future as he was as a rider in the past as a pro rider.