It's said that all good things must come to an end, and so the cycling career of Viatcheslav Ekimov has reached a natural conclusion as Eki announced his retirement at the 2006 Tour de France. With a career spanning more than twenty-five years, Ekimov has seen it all from the seat of a bicycle. Now he is ready to open a new chapter in his life, that of Directeur Sportif for the Discovery Channel Pro Cycling Team. This interview was conducted via phone with Eki from his home in Russia on November 12, 2006.
Cathy Mehl: Hey Eki, how are you doing?
Ekimov: It's kind of boring. I came here (to Russia) to do some paper work, the kind of stuff I don't like to do.
Cathy: Are you riding at all these days?

Eki: Yeah, indoor on rollers. It's a little cold and snowy outside. But I want to stay in shape. Most important for me is to not gain any weight.
Cathy: This is a new chapter in your life for you; you've retired from cycling and are starting a new job.
Eki: I know. It's a little strange.
Cathy: It will take a little adjusting to, but the season will be here soon. Then you'll be busy.
Can you look back at your career as a whole and share with us one or two highlights, moments that meant the most to you?
Eki: My career has been in two parts. The first part was with the Soviet Union National Team. At that time the highlight was a gold medal for myself in 1988. It also gives me pleasure to remember winning the first world championship in 1984 in Italy. That was my first ever big win. Afterwards when I turned pro in 1990 I had some important wins on the road, like a stage win at the Tour de France, World Cup too. But the best win was the gold medal at the 2000 Olympics in Sydney.
If you had to pick only one, would Sydney be the one?
Yes, winning in Sydney was the top of my career.
So tell me a little bit about how you reached the decision to retire?
Actually I was going to race until the Olympics in 2008 but it seems after my injury (in 2005) it put me further back from the shape I used to be in and would like to be in. I realized it was going to be difficult to ever pick up 100% form and without that shape I knew it would be difficult to qualify to ride for Russia and get a spot on the team. I don't want to go to the Olympics just to go, just to be another guy. The only reason to go there is to pick up a medal, but I decided it was something impossible to do.
Also, Discovery team is changing all of their tactics and Johan hopes next year that the team will be attacking more and races will be more intense. We need the big wins in races, so the team will be more aggressive. For me this would be another thing I cannot do at 100%. Thirdly Johan gave me this offer to be a sports director and I think this is another lifetime opportunity to do the switch to another career. This decision was very important for me but I think I've made the right choice. I hope. I think I can share my experiences with the young guys and try to motivate those guys. For sure if someone wins the race when I am directing I will take it personally, it will feel like a personal result.
c. Ben Ross
Did you have a hard time making the decision to switch to being a director?
Since last year's injury I have always had the thoughts of doing something else. It only took me about a week to make this decision. It happened during the Tour de France.
You were racing and decided it was time to retire? Everyone must feel that way after a week of the Tour!
I know, I know!
You talked to Johan about it during the Tour? Because at the end of the Tour you had announced.
Yeah, we sat down on the first rest day for the first time and he gave me some time to think about it. So before the last stage I told him I was going to stop and that I was going to take his offer. That morning (riding into Paris) the party had already started, and a bunch of people found out I was going to stop. So the guys gave me the chance to do something special on the Champs-Elysées. The official announcement was at the team party that night.
c. Ben Ross
Yes, when we were watching on TV and you rode to the front before entering the Champs-Elysées I looked over at my husband and said, What's this?! I bet Eki is retiring!
Yes, it was the tradition for the leader's team to be first across the line but all the guys wanted me to do it. It was a surprise.
What a tremendous honor that the peloton gave you.
It was a nice thing. Yes, there is a young generation of riders now, but there are still a few older ones who will probably stop pretty soon, so it was nice to be noticed.
As you rode onto the Champs-Elysées all of that applause was for you. That must have been an amazing moment for you.
Yes, I had a strange feeling at that moment. I knew every single camera was looking at me and millions of people were watching me. I didn't want to look stupid.
It was very nice, very nice. Have you watched it on TV?
No, not yet, but I think I am going to buy the DVD from this year's Tour.
That night at the party you made the formal announcement, but you had also just completed 15 Tours. What did you think about that?
Well, from one side for sure there is the fact that Joop Zoetemelk has 16 Tours, but I think 15 is very close. I think he missed the years in 96 and 97, all those years when the peloton was going fast from the beginning of the race. For sure my 15 are different from his 16. My first three or four Tours de France were a completely different race. It was slower, there were more jokes, it was different. But these past few years it has been just like a wild race.
And on these past few years you were on Lance's team defending the Maillot Jaune so that had to be hard.
Yes, on those years every day was counting, it was never easy. That's why I think my 15 participations are a pretty big number. Just as good. If you asked me about my fifteen participations I would tell you for sure that I did a few too many! (We both laugh) I would gladly change my 15 participations for one year where I won!
But this year you rode the Giro, too, so you did two Grand Tours right before you retired. That's kind of crazy.
Yeah, the team plan for the Giro was to get good backup for Paolo. Personally I wanted to ride the Giro to see how I could do after such a long time off the bike. I thought if I could make it through the Giro then I could make it through the Tour de France. The Giro was very hard. But now I'm done, hopefully I'm done.
Tell me about your new job with Discovery. It seems very exciting that you're going to do this so soon after being in the peloton. How will you be trained to do your job? Just practice in races?
I did work with a Russian team for a few months a few years ago, but I never drove the car. I was just the co-pilot. So my time as Director at USPro in Greenville (in September) was my first real race to play that game and I will say that this is another sport, there is no chilling and joking.! One hundred per cent of the time it was full attention and I was sweating like a pig! It was serious. But I hope next year my job will be a little bit less than say the job of Johan Bruyneel. There will be Dirk, Sean, Lorenzo, those guys have the experience. I think I will probably be the second car many times. It's good for me to get used to this kind of job, and my time will come.
c. Jerry Kelly
At USPro you were really thrown into the responsibility of the job because it was an important race for George. It was a big first test for you.
Yeah it was big stress. We had only George and Jason McCartney so we had to race diplomatically and be smart. I think George was unbeatable that day, so that helped me a lot too. The main things I did were to give George information, tell him who was in the attack, where everyone was, things like that.
Do you feel you bring something unique to your new job since you just finished riding?
I cannot say right now since there is no pressure for me yet. Every other week I hear from Johan or one of the guys, "Hey Eki, where are you? Are you still alive?" But I think when I go to the Austin camp and the new guys come it will be an interesting week. We will meet and have our first contact with the new riders. We will see what motivation the guys bring and can determine how far we can push them mentally. We have to explain to them that the season is long for any one of you but we cannot just take it easy. Six months can seem like one day too. So I don't have too much pressure right now but I'm not relaxed.
Do you think you will work with the younger guys the most? Would you like that?
I think so. The only thing I know right now is that I would not keep any secrets from young guys. If they have a question for me the answer will be there from me. There is no problem. I do have some advantage in this situation as I can always compare them to myself. If I see someone lacking in confidence, I can always say to them, This is what happened to me and share that experience with them. For sure my experiences will be shared with the guys, maybe more than the other director's do.
You've told me before that you've always kept a journal of your training year after year, so perhaps those will come in handy in working with the young guys.
Right, I can look stuff up. So right now I am just chillin' until December but then I have to switch on my brain.
What surprised you the most about the job that day at USPro?
I think the most difficult part was the communication that day. We had to borrow radios because we didn't have ours, and the race radio was not good either. It was hard for me to listen to both radios. First of all there was not much information from the race radio about who was in the attack. And I was always on the team radio. But after the race I figured out they couldn't hear me, there was nothing there! George didn't really tell me until two days after the race: Hey Eki, we couldn't hear you!
So you won your first attempt as a director. Did Johan have any comments about that?
Well, the comment from Johan was pretty short, "Good job, Eki." He sent me a text message. Sometimes even that is too much from Johan! I know Johan pretty well.
How did it feel to see George win that day?
I was happy, maybe more than George. It was my first race as a director and it was in Greenville, a city that I was in on 9/11. I have a lot of friends and fans there. So it was a special day for me too. At the race party a lot of people came to say nice words to me and get their pictures taken with me. I think I felt like George.
George had a hard year in 2006 so it was a nice way for him to end the season.
Yes it was a nice gift for George to get and take into the winter time.
c. Jerry Kelly
Now here you are ready to start a second career in life. How do you feel about it? Are you worried?
For now I am taking it easy, but I feel confident that I am heading into another long career for me. I have to think about being in this position for years, not that I have to do everything fast in the first year. I think there is time for me to learn my new job and I hope this confidence will stay with me in my first year. I think after first year I will have more to say about all of this. But for now I think it sounds good and I am ready.
Is it a relief to not feel the pressure of always training?
No I would like to train. I would like to keep my same program. When you stay in good shape you can relate to the riders more. You can feel what they are experiencing. I prefer to stay on the bike. First of all it's healthy. And secondly I will stay in good shape just to say to the riders I'm training too, I'm riding too. I want to be like the riders.
Like Sean Yates when he rides with the team at training camp.
Yeah, like Sean. I won't be sitting in the bus from 6 am to 9 am, recovering from drinking the night before. I think the guys will listen to me.
How do you think it will feel to not sit at the rider's table the first time that happens?
I think there will be more stories at the director's table!
Do you think this position will involve more or less travel for you?
I think about the same. You go one day before the race and stay one day after the race. It's pretty much the same.
Will you still be living in Spain or in Russia now?
I think in Spain mostly. I can come more often to Russia, but my son still lives in Spain.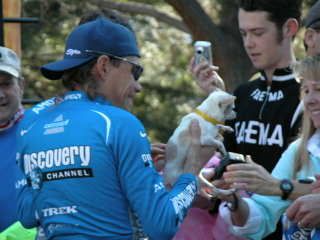 c. Cathy Mehl
You were going to do a camp with him in the summer. Did that happen?
No it didn't happen. His passport had expired and we thought it would be easy to renew but that was not the case. But I think next year we will try to come back for that program.
Is he trying to do any racing in Spain? Are you encouraging him these days?
Right now he is just riding his mountain bike and doing some local things on the week-end. He is always pleased to do that. Right now I think he's just waiting for me to come back (to Spain) to take a little more care of him. I think this is my last week here.
Eki, despite all the doping problems in cycling, do you still think it's a good profession to be in? And if your son wanted to go into cycling would you encourage him to do it?
Well, I would try to be sure my son received this message from me: Do not take any drugs. There is life after sport and I think the life after sport is more important than the sport itself. I will give him that message.
And show him by your example.
Exactly. The thing about doping is that it's always a personal choice, the choice of the rider. For sure it's bad. I don't know if all these new things from the UCI will stop the doping but I hope they will help the sport be more clean. I hope.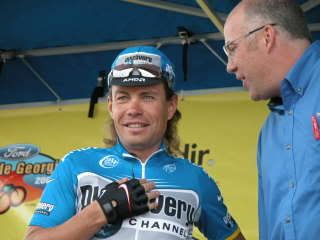 c. Cathy Mehl
If you had your career to do all over again, would you do it the same way?
I probably would do the same, but only on the condition that I didn't know what it was going to be like. If I knew from the first that it was going to be so hard and so long I probably would never have stayed with it! I would never want to do it again. But once you're in the game, it's hard to step out.
Well you stepped out on a high note, with the entire peloton honoring you in the biggest race in the world. That was a perfect ending to a long career.

What do you think about Ivan Basso joining your team?
I think this is a very good thing that has happened to our team. Now probably the team will be more in the public eye, on the front pages of sports magazines. For sure now we have a big card to play in the Grand Tours.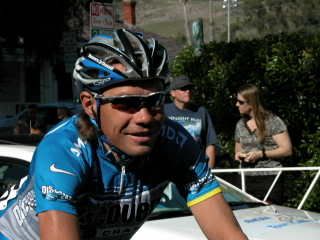 c. Cathy Mehl
There has been discussion since he was signed about Discovery not sending a clear message about being against doping. Do you have a comment on that?
I was outside of this decision. Johan never gave us a clue he was coming to Discovery. It was a surprise. But now his case has stopped and he's just another guy who needs a job, so why not?
Okay, just a few last minute fun questions as we bring this to a close. Here we go:

Red wine or white?
Red wine.
AM or PM?
Oh, sometimes PM but most of the time AM.
Russia or Spain?
For sure Russia, but I cannot be without Spain.
Fast cars or fast women?
Fast cars. (Laughs.)
Road or track?

Road.
Dinner out or bar-b-que with friends?
Bar-b-que.
Olympics or the Tour?
Olympics.
Hot climbs or cold descents?
Cold descents.
Silver or gold?
What do you think?
Retirement or racing?
Well, racing, but ask me again in a year!
The DP wants to congratulate Eki on his retirement from racing and to thank him for giving us exciting moments on the bike, as well as his ever-present professional attitude. It will be exciting to watch him enter into a new career with Discovery Channel and we wish him the best of luck with the new job.